Terrorist Taliban Orders Afghan Female Workers to Stay Home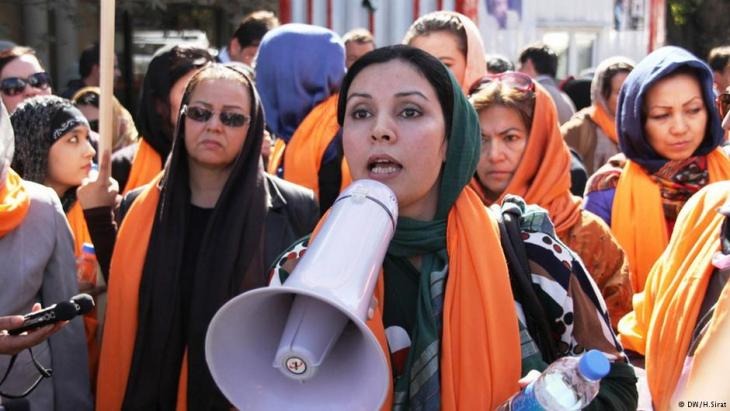 Terrorist Taliban authorities have ordered Kabul municipality employees to stay at home until further notice from the movement, except for women who cannot be replaced by men, according to the interim mayor of the Afghan capital.
This was announced today, Sunday, by the interim mayor of Kabul, Hamdullah Namouni, in his first press conference since his appointment by the Taliban.
Nomouni added that before the Taliban seized power last month, about a third of Kabul municipality's 3,000 employees were women, and they worked in all departments.
Namouni explained that the new government has ordered female employees to stay in their homes until another decision is issued, pointing to the exception of women who cannot be replaced by men, including some workers in the design and engineering departments and female public toilets designated for women. Namouni did not say how many female employees were forced to stay at home.
He said, "There are some areas that men cannot do, which prompted us to ask our female employees to continue to perform their duties, as there is no alternative."
The decision to prevent most of the city's female workers from returning to their jobs is a new indication that the Taliban movement, which seized control of the capital Kabul last month, has imposed its strict interpretation of Islam, despite earlier promises of tolerance and inclusiveness.
Namouni also indicated that the new government has begun removing security barriers in Kabul, a city that has been subjected to frequent shelling and attacks in previous years. These barricades – set up near ministries, embassies and the private homes of politicians and warlords – have been common in Kabul for years.
The Taliban had deprived girls and women of education and public office during its rule over Afghanistan in the 1990s.
In recent days, the new Taliban government issued several decisions that undermine the rights of girls and women, as it ordered middle and high school students not to return to school at the present time, while the boys in those classes resumed their studies yesterday.
University studies also resumed, but female university students were told that classes would take place in segregated settings from now on, and that they had to adhere to strict Islamic dress codes, in contrast to education during the previous US-backed government, where university studies were mostly mixed.
On Friday, the Taliban abolished the Ministry of Women's Affairs, and replaced it with the Ministry of "Promoting Virtue and Preventing Vice", tasking it with implementing Islamic law.
In a related context, more than a dozen women organized a vigil today, Sunday, outside this ministry, and raised banners calling for women's participation in public life. One banner read: "A society in which women are not active is a dead society."
"Why are the Taliban depriving us of our rights? We are here for our rights and the rights of our daughters," said Basira Taouneh, a 30-year-old protester.
The protest lasted for about 10 minutes. After a brief verbal clash with a man, the women got into the cars and left, while Taliban fighters monitored the demonstration from two cars closely.
Taliban fighters forcibly dispersed several women's protests over the past few days.