Two media programs from the Brotherhood in Turkish regime were suspended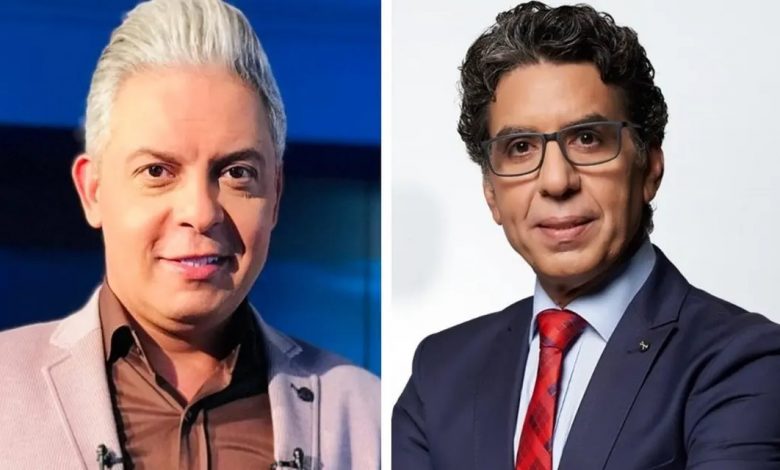 Two media professionals from the Muslim Brotherhood, Moataz Matar and Muhammad Nasser, announced that they are on vacation with the suspension of their programs on "Al Sharq" and "Makamalin" channels, which broadcast from Istanbul.
And the journalist Nasser, the broadcaster, wrote a post on the "Mekamelin" satellite channel, Saturday, on Twitter, in which he said: "My dear audience … we are accustomed to being transparent with you and your participation with us in every big and small, and in continuation of this principle I would like to inform you that I am on vacation during the month of Ramadan, hoping to return to you as well." I've always".
His colleague, Moataz Matar, wrote another obscure post in which he said: "My dear Republic, I meet with you at exactly ten in the evening, Cairo time, in a very short episode of the program" With Mu'taz ", in which we will broadcast an important statement.
Their colleague, Abdullah al-Sharif, wrote a blog post in which he unveiled the existence of a decision to close the two programs.
Al-Sharif said in his post: "To Muhammad Naseer and Mu'taz Matar, may God bestow your condolences in your media outlets, and as a matter of brotherhood in God, my channel is at your command to be used in the live broadcast every night. If you want, you will not be defeated by the decision."
For its part, sources revealed to our reporters that the Turkish authorities informed the two media professionals about changing the nature and policy of their programs and granting them permission until they agreed on a new format or broadcasting from another country, leaving them free to make decisions.
Weeks ago, the Turkish authorities had asked the Brotherhood satellite channels broadcasting from Istanbul to stop their criticism of Egypt, reduce the intensity of the media rhetoric and prevent incitement.
The two media professionals, Matar and Nasser, broadcast videos that revealed their intention to leave and leave Turkey.
Nasser, the broadcaster on the "Mekamelin" satellite, published a video on his page on the communication sites, in which he expressed his appreciation to the Turkish authorities that sheltered him for 7 years, adding that if the rapprochement with Egypt reached his last station, he would immigrate to Canada or Britain.
In turn, Matar, who works for the "Al Sharq" satellite channel affiliated with the Brotherhood, expressed in a video broadcast on his page on the communication sites, his respect for Ankara's desire for rapprochement with Egypt, announcing that he might go to Britain, Canada, Brazil or Africa in the event of a final decision to deport Brotherhood media. And their leaders or shut down their satellite channels.
The Brotherhood journalist also admitted that the group is now truce and maneuvering and adheres to the Turkish instructions pending the final position on rapprochement with Egypt, stressing at the same time that the Brotherhood leaders will continue their policy against Cairo even from outside Turkey.
Sources had previously revealed to Al-Arabiya.net that the Brotherhood, since the announcement of the Turkish steps for rapprochement with Egypt, formed a cell to manage the crisis and discuss the fate of residents in Turkey who did not obtain citizenship or residency, in addition to those working in Istanbul satellite channels, if it decided. The Turkish authorities closed it, and several scenarios were agreed upon, including waiting until the final position on rapprochement with Egypt became clear and the steps that the Turkish authorities would take, with a commitment to implement calm and appeasement in the group's satellite channels, prevent embarrassment to Ankara, and stop any criticism of Egypt.
The second scenario, which the group began implementing serious and concrete steps, included providing fast and safe havens for elements that might leave Turkey, and creating alternative media platforms to accommodate workers in Istanbul satellite channels.
Is seeking Turkey to rapprochement with Egypt and the Gulf countries And stopping the hostility policy in preparation for discussion and agreement on a joint mechanism in regional and international files.