The Israeli army intensifies its attacks and kills more than 400 Palestinians in Gaza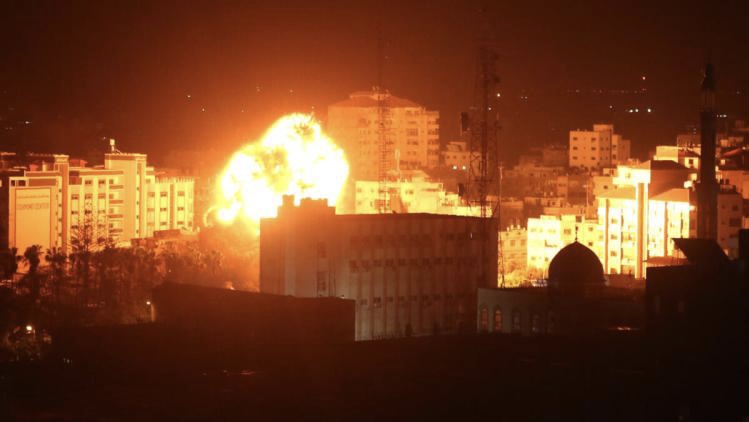 More than 400 Palestinians were killed on Sunday as a result of intense Israeli army attacks on the Gaza Strip.
The attacks were concentrated in Jabalya and Beit Lahiya in the north, the Al-Gusta and Al-Rimal neighborhoods and Al-Shati refugee camp in the west and Khan Younis and Rafah in the south of the Gaza Strip.
Most of those killed were women and children, medical sources told the Palestinian news agency.
They said 44 Palestinians were killed in Khan Younis governorate, 57 in Rafah, 168 in Al-Wusta, 66 in Gaza and 44 in the north.
Six were killed and 11 others injured in the bombing of a house in Rafah, it continued.
The number of women, children and elderly killed Sunday accounted for 70% of the death toll, according to the sources.
In the bombing of the house of the Abu Habis family in Al-Sarara, five were killed. Some were injured in a strike on a house of the Al-Zitani family in the Al-Amal neighborhood.
An attack targeted a house in Al-Maghraqa in the middle of the Strip, killing four people and injuring six others. Another attack targeted a house in the Zawayda area in the center of the Strip.
"Occupation warplanes launched several raids on two houses in the Al-Tirnis area of the Jabaliya camp and the Albanian mosque in the camp in the north of the Gaza Strip, causing 20 deaths, while dozens are still under the rubble," said WAFA.
Multiple Israeli attacks were reported near Al-Shifa Medical Complex in central Gaza and near Al-Quds Hospital in the Tel al-Hawa neighborhood west of Gaza, which was targeted for the second time.
The Palestinian agency said "the occupation aircraft conducted at least 25 massacres on Sunday" by directly targeting homes without prior evacuation warnings.
Warplanes and artillery forces stationed near the eastern border of the Gaza Strip participated simultaneously in the intensified attack.
WAFA quoted the Palestinian Health Ministry as saying that "the massacres of the occupation completely demolished residential neighborhoods and wiped them off the map of the Gaza Strip, turning them into rubble on top of each other. Some families are completely removed from the civil register in a number of areas and refugee camps of the Strip."
While medical and civil defense teams have recovered hundreds of dead and wounded, they are still working to recover hundreds more victims who are still under the rubble of demolished homes.