The last leak of the Ballon d'Or award Ronaldo is ninth… What is the order of Messi and Salah?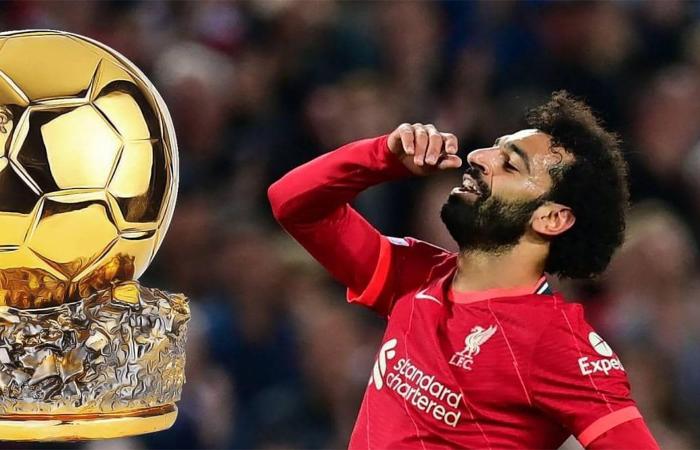 Mystery hangs over the 2021 Ballon d'Or award, in light of the brilliance of a number of players such as the two stars Robert Lewandowski and Mohamed Salah, and the lack of a prominent candidate, which portends a major surprise.
The result is now already known because the voting was closed last Monday evening, after the fiery "Super Sunday" matches, but we must wait until November 29, to find out who the official winner of the "Golden Ball" award is, and whether the leaks are true.
The Spanish newspaper "Marca" published a leaked image of the result of the vote for the "Golden Ball" award granted by "Fran" magazine, and revealed that the Polish Robert Lewandowski, the star of Bayern Munich, is the first, with 627 votes, surpassing the Argentine star Lionel Messi, the Paris striker. Saint-Germain, and French Karim Benzema, the Real Madrid striker.
While the Egyptian star Mohamed Salah comes in fourth place, then the Italian Jorginho, the Chelsea playmaker, the most prominent candidate for the award, is in fifth place.
While Portuguese star Cristiano Ronaldo occupies ninth place in the ranking.
The ranking of the top ten competitors for the 2021 edition of the "Golden Ball", according to the leak, is as follows:
1- Robert Lewandowski (Bayern Munich)
2- Argentine Lionel Messi (Paris Saint-Germain)
3- Karim Benzema (Real Madrid)
4- Egyptian Mohamed Salah (Liverpool)
5- Italian Jorginho (Chelsea)
6- French Kylian Mbappe (Paris Saint-Germain)
7. N'Golo Kante (Chelsea)
8. Erling Haaland (Borussia Dortmund)
9- Cristiano Ronaldo (Manchester United)
10- Kevin De Bruyne (Manchester City).
This is not the first time that the Ballon d'Or vote has been leaked, as something similar had already happened in 2018.
In that year, a list of all the centers was leaked, and the Croatian Luka Modric, the Real Madrid playmaker, was at the forefront, seizing in a major surprise the "Golden Ball" from his fellow Royal Team star Cristiano Ronaldo and depriving him of the sixth.
It is noteworthy that the "Golden Ball" was absent from the limelight in 2020, after the magazine "France Football" decided to block it due to the pandemic of the emerging Corona virus "Covid-19".