The other culprit in Libya's floods
The climate crisis intensified the floods, but it was conflict that rendered Libyans unprepared for them.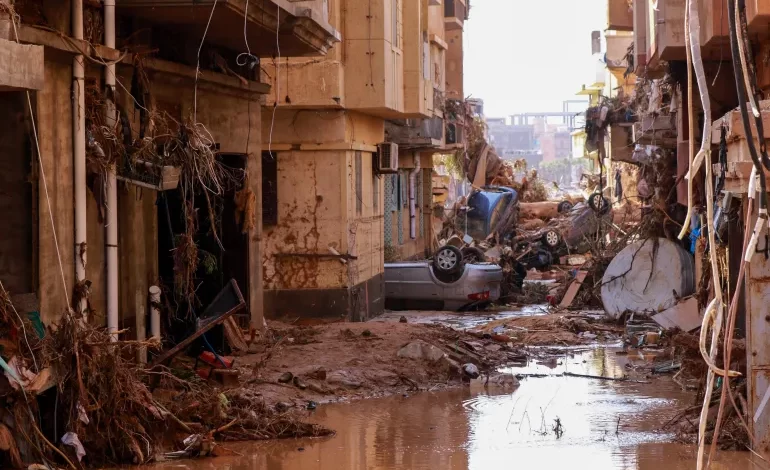 In early September, Storm Daniel hit the Mediterranean, causing catastrophic flooding. Heavy rains poured over parts of Turkey, Bulgaria and Greece. The Greek province of Thessaly saw a staggering 18 months' worth of rain in just one day. Swollen rivers claimed flooded villages and towns, taking 15 lives, damaging buildings and infrastructure, and wiping out crops.
Then the storm moved south, making landfall in Libya on September 10. It dumped as much as 400mm of rain in just 24 hours on areas that normally receive 540mm annually.
The fallout of the flooding in Greece paled in comparison to the utter devastation and loss of life that Daniel inflicted on the Libyan coast and especially the port city of Derna. The heavy downpour caused two dams to burst, leaving behind more than 11,000 dead and many missing, wiping out whole neighbourhoods and destroying civilian infrastructure.
But there is a reason why oil-rich Libya fared much worse under the torrential rains than Greece did. Since 2011, the country has suffered from an internal conflict that has periodically flared up and subsided, but ultimately continued to fester, sowing death and destruction and undermining state institutions, including those that could have taken action to mitigate the effects of the flooding. The tragedy in Libya illustrates just how much worse a conflict can make the human suffering that the climate crisis is bringing about.
Turbo-charged climate
Storms like Daniel are rare, yet they represent a new normal as climate change intensifies Mediterranean tropical-like cyclones, also known as Medicanes. Though such storms occur only once to three times annually, and mostly in the north and west Mediterranean, climate change is expected to strengthen them and bring them to the eastern and southern Mediterranean shores, according to the United Nations' IPCC's Sixth Assessment Report.
Climate change is already weakening jet streams, stalling pressure systems, and extending both heatwaves and storms. Hotter seas are enhancing cyclone moisture uptake, while hotter air holds more water, spurring more intense downpours.
Longer droughts that precede more intense rainfall make matters worse. When parched land finally receives rainfall, it is less able to absorb it, which worsens flooding.
Though detailed attribution studies on how climate change influenced Daniel are pending, it likely played at least a partial role. The three months preceding the floods have been the warmest on record, by far. Sea surface temperature in the eastern Mediterranean this summer was also 2-3 degrees warmer than usual, reaching a record 28.7 degrees Celsius.
A Mediterranean warming up this fast means that local governments should be intensifying their climate resilience efforts. They should be assessing climate risks and developing adaptation plans that include long-term measures to reduce disaster impacts, such as infrastructure investment and strengthening civil society. They should also deploy emergency response measures to address immediate needs, such as drawing up evacuation plans and ensuring the functionality of essential infrastructure.
The lack of unified governance and the protracted civil conflict between the internationally-recognised government in Tripoli in Western Libya and renegade commander Khalifa Hafter and the Tubruk-based House of Representatives he backs in Eastern Libya have increased the vulnerability of the country to climate crisis-fuelled disasters.
Libyan authorities on both sides of the conflict have done little to build climate resilience. Despite being a signatory to the Paris Agreement, Libya has failed to submit any national plans for mitigating or adapting to climate change.
Derna itself has been mired in conflict for years after the fall of Libyan leader Muammar Gaddafi in 2011 which took a toll on its infrastructure. The city fell under the grip of militant groups for a while until it was captured by Hafter in 2019.
Since then, the authorities in Eastern Libya have treated the city's residents with suspicion, which has led to poor Investment in roads and public services, let alone disaster risk reduction measures.
The fragmented governance has also meant poor regulation and enforcement of construction codes, which led to civilian housing appearing within and near the flood plain of an intermittent river that cuts through the city.
Most critically, the two rockfill dams that collapsed had not been maintained since 2002, despite the allocation of more than 2 million euros ($2.14m) for that purpose and despite warnings by local experts that a major storm could lead to collapses.
The fragmented governance also weakened disaster preparedness. Libya's National Meteorological Center in Tripoli had issued a storm warning three days in advance. Separately, officials in Eastern Libya also warned the public and declared a curfew. Neither presented a contingency evacuation plan in the days leading to the storm's landfall. Even as the water swelled behind the dams, there was no clarity on whether residents should evacuate.
Governance failures and the protracted conflict also created challenges for emergency responses. The Tobruk-based authorities are leading the relief efforts and coordinating with allies such as Egypt. The Tripoli-based government, lacking full access to the city and to developments on the ground, was delayed in spelling out Derna's relief needs to international donors. However, it did manage to allocate $412m for reconstruction.
Battening down the hatches
The starkly higher death toll in Libya compared with Greece underscores how climate change disproportionately harms the unprepared.
The floods in Libya spotlight how climate threats are amplified in conflict zones lacking resilience and infrastructure. Other nations in the Mediterranean basin threatened by climate change also lack resilience and adequate infrastructure and struggle with conflict and political and economic instability.
In Syria, the civil war has weakened critical infrastructure and disaster preparation, while Egypt faces rising seas and increasing extreme weather in the context of economic turmoil.
Adaptation and disaster preparedness require stable governance and cooperation. The entire Mediterranean region needs support to build peace, strengthen communities, and prepare for inevitable climate shocks. Addressing climate change requires tackling conflict and governance as linked challenges. Peacebuilding should be part of climate crisis responses.
For countries sharing climate risks in the region, the Derna disaster should serve as a reminder that it is always prudent to fix the roof while the sun is shining.