Top scorer in the English Premier League .. Why does the last round love Kane more than Salah?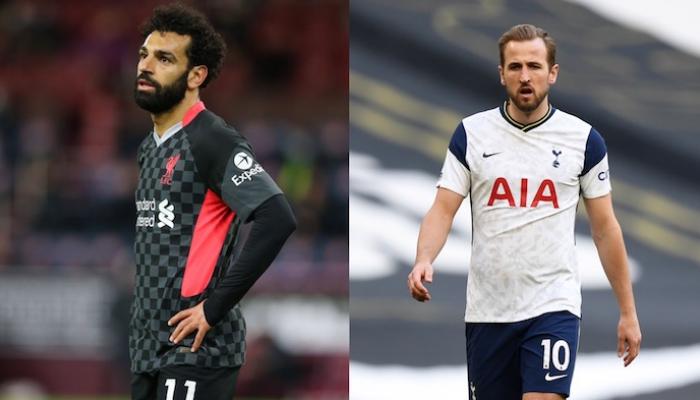 The struggle for the Golden Boot in the English Premier League is still raging between Mohamed Salah, the Liverpool player, and Tottenham Hotspur striker Harry Kane.
The duo scored 22 goals each, while they missed the opponents' net in the penultimate round, on Wednesday evening.
Mo did not score in the Burnley match, despite a win Leferball 3-0, Kane also did not score with Tottenham in his team's 1-2 loss at Aston Villa, with one round remaining until the end of the Premier League.
Salah wasted two singles against Burnley, who were sure to keep him away from the top scorers, as the Reds sought to score the most goals in order to win and book a seat in the Champions League.
While Harry Kane was not in his usual form during the confrontation with Aston Villa, especially after the player informed Tottenham's management of his desire to leave.
Mohamed Salah and the last round
The last round did not smile much to Mohamed Salah in terms of scoring with Liverpool, since he joined the team in the 2017-2018 season.
Mo did not miss any match in the last round with the "Reds" and participated in the past 3 seasons, but he only scored in his first season with the team 3 years ago against Brighton, while he missed the past two years from the net.
Salah won the top scorer title for the first time in 2017-2018 with 32 goals, a record that no player has reached in one season in the Premier League.
The second time was in the 2018-2019 season, when he shared with his colleague Sadio Mane and Pierre Aubameyang of Arsenal's player the award, and each scored 22 goals.
While he lost the race last season after scoring only 19 goals, while Leicester's Jimmy Vardy scored 23 goals to snatch the award from the Egyptian Pharaoh.
How about Harry Kane?
The last round of the Tottenham star, who scored 7 goals in his last 5 appearances, is always smilingPremier League.
In the 2016-2017 season, Kane scored 3 goals in the final round against Hull City, and in the 2017-2018 season he scored a brace against Leicester City, a rival that Kane will meet next Sunday.
In the 2018-2019 season, Kane was injured and did not participate, while last season he scored a goal in the last round against Crystal Palace.
Kane won the Premier League top scorer twice in a row, like Salah, in the 2015-2016 and 2016-2017 seasons.