Tripartite summit of Egypt, Cyprus and Greece in Nicosia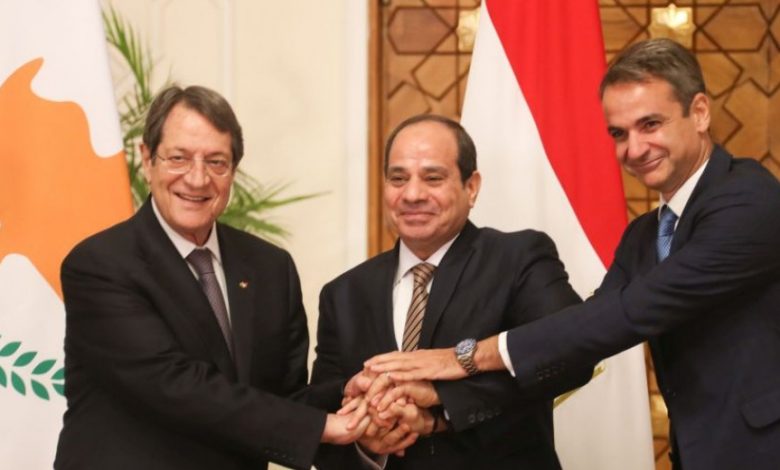 Nicosia is expected to host leaders of the three countries are expected to head to Cyprus capital to take part in the Summit and discuss several issues of mutual concern during their meeting.
According to Cyprus National Agency, CNA the Summit will be discussing the illegal activities of Turkey in Famagusta and the situation in the Eastern Mediterranean.
Deputy Government Spokesman Panayiotis Sentonas said in a statement that the Summit will take place within the framework of deepening regional cooperation with neighboring countries.
He added that the three countries leaders will focus on the results and the progress of the trilateral mechanism, cooperation in the field of energy, migration issue, fighting terrorism, as well as the situation regarding the COVID-19 pandemic.
In October, 2019, Sisi attended the 7th tripartite cooperation summit between Egypt, Cyprus and Greece, describing it as a real opportunity for exchanging views and coordinating efforts regarding challenges and international issues.
The trio stressed on the importance of reaching binding legislation to counter terrorist groups, and hinder their recruitment of youth using technological methods. Sisi added, "Terrorism is an international phenomenon that can never be linked to any religion or culture."
During a press conference, Sisi said that he, Anastasiades, and Greek Prime Minister Kyriakos Mitsotakis discussed the turbulence taking place in the region that represents a threat to the regional neighbors, deprives people of the right to a safe life, and creates new crises.
During the summit, the three leaders also tackled the illegal immigration crisis, taking into consideration the demographic changes among the region's peoples, and the needs of the European labor market, which might be the basis of containing the negative effects of the crisis in a way that will achieve a win-win situation to all parties involved.
Sisi stated in his speech that reaching a political solution in Libya is a must, and the only solution to achieve stability, and that it should come along with a comprehensive addressing of the crisis sources by unifying its institutions and establishing a parliamentary monitoring of the political and economic decisions in Libya.