Trump's rising interference in military irks Pentagon
Concerns grow that president is politicising defence department after Navy Seal case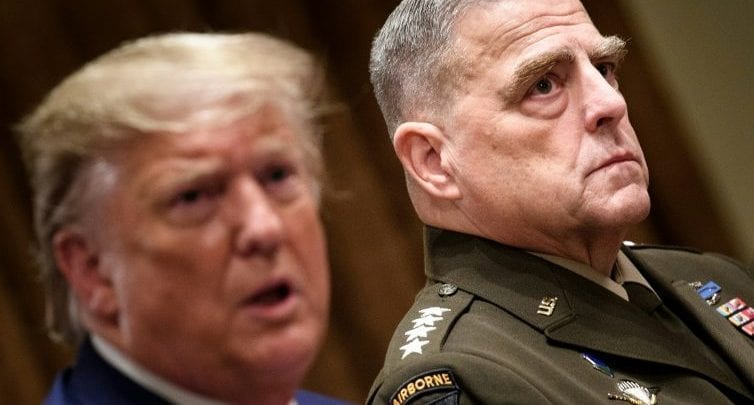 Trump 's rising interference in military irks Pentagon
When Mark Esper, US defence secretary, fired the head of the navy on Sunday, it marked the latest chapter in the turbulent relationship between Pentagon leaders and Donald Trump. 
Over the past three years, the commander-in-chief has blindsided his generals with impromptu decisions to withdraw troops from Syria, slammed allies from Germany to Japan, abruptly cancelled military exercises to please Kim Jong Un, and irked the Pentagon by demanding a military parade.
But the latest controversy — over the case of a Navy Seal convicted of a war crime in Iraq that culminated in the firing of Richard Spencer, the Navy secretary — has created a bigger headache for the top brass because it played out publicly in real time. 
Chief Petty Officer Eddie Gallagher was acquitted in July of several war crimes but was convicted of posing for a photo beside the corpse of an Isis detainee he had killed. He was demoted as a result but Mr Trump restored his rank in a controversial decision this month.  Mr Trump angered the Pentagon with the announcement, which also included a pre-emptive pardon for a soldier facing trial over a death in Afghanistan. Mr Esper and General Mark Milley, chairman of the joint chiefs, urged him to let the military justice system play out but were ignored. 
Given that this case became a cause célèbre among conservative media, there may in the future be an incentive to campaign in such media in hopes of garnering the president's attention and action Richard Fontaine, Center for a New American Security  "This feels like an inflection point," said one retired senior officer, who warned that Mr Trump had already politicised other government agencies, such as the homeland security and state departments. 
"Trump has been chipping away at the apolitical, non-partisan nature of the defence department but this feels different. He is trying to complete the trifecta by politicising the Pentagon."  The Pentagon was forced to accept the Gallagher decision but the Navy planned to convene a panel to determine if he could retire as a Seal — a move that angered Mr Trump. Mr Spencer, the Navy secretary, then tried to cut a deal with the White House that would create a veneer of maintaining order by letting Chief Gallagher retain his Seal status if Mr Trump agreed not to intervene in his case.
Mr Trump on Monday said he had been thinking for a "long time" about firing Mr Spencer, an ally of Jim Mattis, who resigned as defence secretary in December over disagreements with the president.  But military justice experts said the president's involvement in the case had raised more serious concerns. 
Rachel VanLandingham, a retired Air Force judge advocate and professor at Southwestern Law School, said Mr Spencer had offered a "different flavour of corruption than that which has already infected the military justice system by the president".  But she stressed that while Mr Trump had the right to take the action as commander-in-chief, his move to get involved set a dangerous precedent.
  "This is not an order of legality. It's an issue of propriety," said Ms VanLandingham.  The Gallagher case has also renewed questions about the influence that Fox News, the conservative television network, has on Mr Trump. Some of the network's anchors championed the case of Chief Gallagher.
Mr Trump also reportedly cancelled a strike on Iran over the summer in response to the downing of an American drone because of criticism from Tucker Carlson, another Fox anchor.  Richard Fontaine, a former aide to John McCain who heads the Center for a New American Security, a think-tank, said: "Given that this case became a cause célèbre among conservative media, there may in the future be an incentive to campaign in such media in hopes of garnering the president's attention and action."  The Gallagher controversy has also resurrected much broader concerns about the way Mr Trump deals with the military. The announcement two weeks ago came as Mr Esper and Gen Milley were in Asia where they spent time reassuring Japan and South Korea that Mr Trump was committed to the US allies despite his previous disparaging comments about Tokyo and Seoul. 
Recommended US foreign policy Pence lands in Turkey with Trump under pressure at home Kori Schake, an expert on the US military and deputy director-general of IISS, a think-tank, said the Pentagon leadership was "really anxious" about "the president's erratic behaviour", which she stressed both undercut deterrence and damaged critical US alliances around the world. 
Military experts say the Pentagon was happy with some of the early actions taken by the president, such as the decision to strike Syria with cruise missiles in 2017 over its use of chemical weapons. But Ms Schake said much of the goodwill had been undone by "arbitrary withdrawal decisions" in Syria.  Mr Trump last month came under fierce criticism for not doing more to try to stop Turkey from launching an incursion into Syria.
While US military leaders largely agreed with his decision to withdraw the tiny number of American special forces operating in the vicinity of the attack, he complicated matters by announcing a complete withdrawal from the country. This was slowly rolled back by the Pentagon, as occurred after his Syria withdrawal announcement last year.  Syria was a clear example of the fine line that Mr Esper, who recently became the permanent successor to Mr Mattis, and Gen Milley are having to walk in their new positions. "The best bellwether is Gen Milley's expression," said Ms Schake. "He wanted the job . . . and now looks like Prometheus watching his vultures drop in to pick at his liver."