Tunisia: Brotherhood leader Amna Al-Dridi, announce her resignation from "Ennahda" movement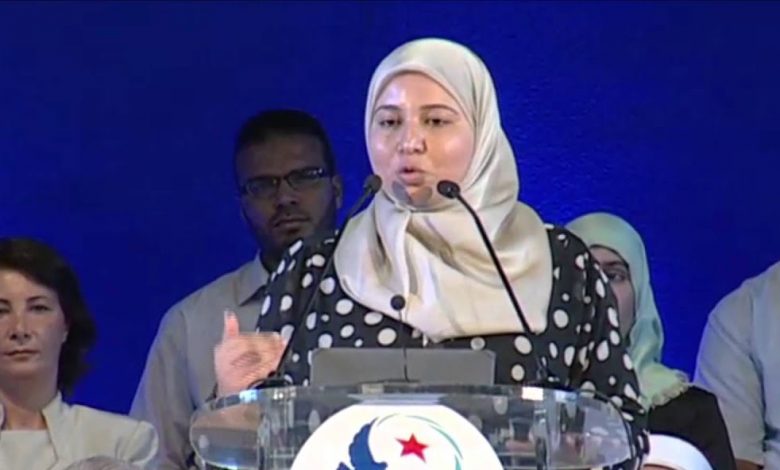 Tunisia: Leader, Amna Al-Dridi, announced her resignation from the Ennahda Shura Council, in a new indication of the worsening crisis afflicting the movement.
Before her resignation, Amna Al-Dridi became a member of the Women and Family Office within the Ennahda movement, and she had previously run for the Ennahda Movement's list for the 2019 legislative elections for a constituency. Tunisia 2, and was unable to win a seat in parliament.
Amna Al-Dridi published a post on her Facebook account, in which she wrote, "Today I completely leave the Ennahda Movement, after I submitted my resignation to the official structures for reasons that I chose to keep for myself and it is not useful to mention it in this area. I thank everyone who once gave me his confidence."
While Amna Al-Dridi confirmed that she would keep the reasons for her resignation to herself, a high-ranking source in the Ennahda movement, who refused to reveal his identity, confirmed in a statement to "Erm News" that the resignation of the leader, Amna Al-Dridi, comes against the background of her marginalization within the movement.
The source revealed that leader Amna Dridi was scheduled to head the party's list in the last legislative elections, in the "Tunis 2" district. However, "in recent days, the leader Arwa Bin Abbas was appointed instead, and Dridi was placed in third place."
The same sources said that the leader Amna Dridi is being attacked by other leaders in Ennahda loyal to the head of the Ennahda movement, Rashid Ghannouchi, because of her support for the "100 leaders" group, who refuse to keep Ghannouchi at the head of the movement.
The resignation of the leader, Amna Dridi, comes in light of an unprecedented internal crisis on which the Ennahda movement is living between two currents. The first is described as the "Ghannouchi Group" and defends the revision of the Basic Law, enabling Ghannouchi to establish a new term at the head of the movement, and the second is the rejectionist "100 Leading Group". For any revision of the political system that adheres to a leadership democratic transition within Ennahda.