Libyan House of Representatives (HoR) suspended the session of granting confidence to the new Libyan government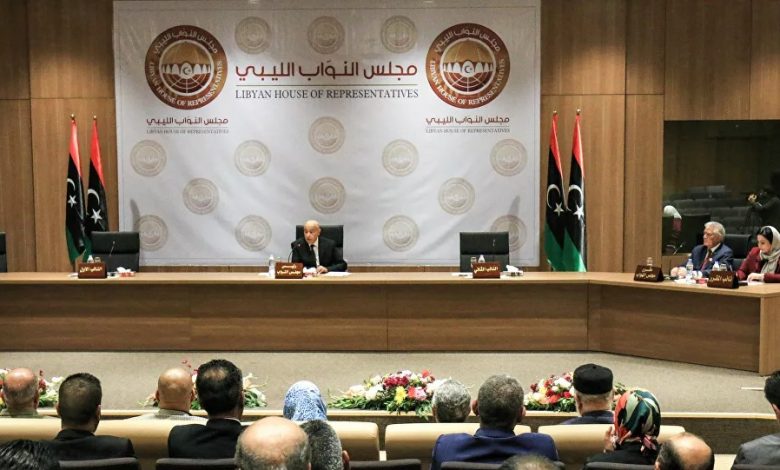 Libyan House of Representatives (HoR) has suspended the session of granting confidence to the Government of National Unity (GNU) in Sirte, saying it will resume Tuesday after it has summoned Prime Minister-elect Abdul-Hamid Dbeibah for consultation, the first deputy of the Speaker, Fawzi Al-Nuwairi, said Monday evening.
Saleh proposed, before leaving the session, including the Geneva-based dialogue outcomes in the constitutional declaration and send it to the legislative committee and summoned PM Dbeibah to discuss his cabinet line-up.
Al-Nuwairi presided as a chair of the session as the Speaker, Aqila Saleh, left for spending "a lot of hours in the session since 10.00 am."
During the session, some notes about the cabinet line-up were given as several members said it was an expanded formation that will cost state funds a lot, while others referred to bribery allegations of the Libyan Political Dialogue Forum members in addition to some controversial names on the list of ministers.
Before the session, Dbeibah urged in a recorded video statement the HoR members not to miss out on the opportunity to unify the parliament and to seek Libya's greater good over personal interests, asking them not to delay confidence granting for another phase or hinder the holding of transparent and free elections for which all Libyans are aspiring.
132 HoR members attended the session in Sirte with the aim to grant Dbeibah's cabinet confidence. The meeting in Ouagadougou Hall was secured by the 5+5 Joint Military Commission forces.