Tunisia: Opposition Party Abeer Moussi Accuses Political Organizations of Bringing Terrorism to Tunisia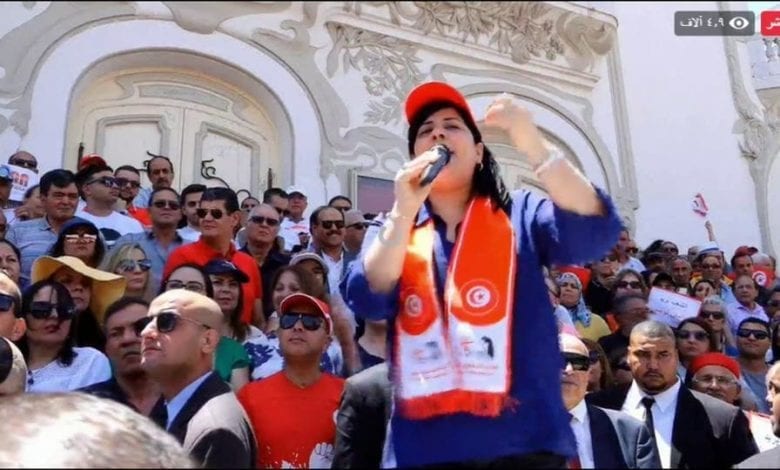 In a press conference at parliament, Moussa issued a final warning to the state to stop "failing to implement the law, address threats to Tunisia's national security and identify parties that have contributed and are still contributing to the infiltration of terrorism."
Head of Tunisia's opposition Free Destourian Party Abir Moussa accused political organizations of bringing terrorism to the country.
She said the state is unwilling to uncover the source of terrorism, "because some political organizations, which dominate the political scene, are responsible for bringing terrorists into the country."
She did not name these organizations, but observers said she was referring to the Islamist Ennahda movement, which Moussa had previously accused of supporting terrorism.
Citing a report by the Tunisian Financial Analysis Committee (CTAF), Moussa said terrorist activity in Tunisia peaked in 2013 and 2014 when recruits headed to conflict zones abroad to receive training on the use of weapons and explosives. She said the Tunisian state was completely aware of these figures and acts and chose to do nothing to address the threat.
The opposition leader also accused some countries of failing to fight terrorism and threatened to resort to the international community and international judicial institutions to force Tunisia to fight terrorism should it fail to mobilize against it.
Furthermore, she slammed the decision to allow the Hizb ut-Tahrir group, which does not recognize the civil state and calls for the return of the religious caliphate, to continue to pursue its activities. She renewed her demand to dismantle the party and prevent it from carrying out any political activity or hold any gatherings.
The ISIS group claimed responsibility on Monday for a knife attack in Tunisia which killed one National Guard officer and wounded another, as security forces rounded up more suspects.
The attack on Sunday morning in a tourist district of the coastal city of Sousse saw a group of assailants ram a patrol of the National Guard with a vehicle before stabbing the officers.
Tunisia, since its 2011 revolution, has been hit by a string of extremist attacks that have killed dozens of security personnel, civilians and foreign tourists.