Tunisia struggles to distance itself from Erdogan's stance in Libya
Saied's spokesperson said Tunisia has "no intention to enter any coalition or opt for any alignment."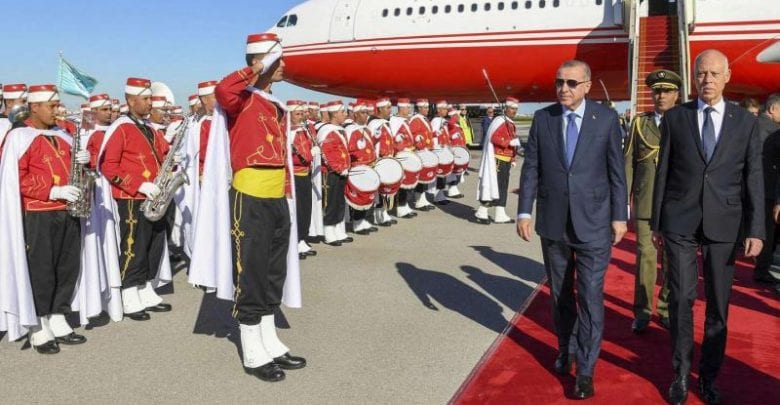 A day after a surprise visit to Tunisia which triggered many negative reactions among the North African country's political parties, President Kais Saied struggled Thursday to distance himself from the Turkish push to mobilise support for Ankara's plans to offer military help to Libya's Government of National Accord (GNA) led by Prime Minister Fayez Sarraj.
The Tunisian presidency's spokeswoman Rachida Ennaifar said Thursday her country's policy on the Libya conflict was that of support to peaceful resolution of the conflict and not of alignment with any faction.
"There is no intention to enter any coalition or opt for any alignment," said a statement by the Tunisian president's press office.
Sarraj's troops, including militant militias,  are pitted since April in a battle for the control of the Libyan capital, Tripoli, against troops of the Libyan National Army (LNA) led by Field Marshal Khalifa Haftar.
In a speech Thursday, Erdogan said "Turkey and Tunisia agreed to support Libya's internationally recognised government of Fayez Sarraj," reported Reuters.
The Turkish president had made an unannounced visit to Tunisia Wednesday accompanied by his defence minister, spy chief and foreign minister in an effort to win the support of Tunisia for Turkey's military intervention in Libya.
The visit prompted widespread wariness of Tunisian secularist parties over the risks of entanglement of their country in the Libyan conflict and the potential fallout from taking sides in the conflict.  
During his visit, Erdogan stressed his willingness to expand cooperation between the two "friendly and brotherly countries" in various economic fields that would include Ankara helping Tunis export its olive to other countries and building a hospital in southern Tunisia.
The apparent bid to sweeten Tunisia's diplomatic inflexion towards Turkey's policy in Libya raised eyebrows as critics compared the proposed aid to the risks Tunisia faced in siding with Erdogan on the Libya conflict. The Erdogan visit to Tunisia visit followed the signing by the Turkish leader and Sarraj of maritime and military agreements last month. 
The agreements were condemned by the rival Libyan government in the east and the forces loyal to powerful army commander Khalifa Haftar.
Erdogan reiterated Thursday his intent to send soldiers to Libya if there is an "invitation" from Tripoli.
The military agreement signed into law a week ago allows Turkey to dispatch military experts and personnel, along with weapons, despite a UN arms embargo that has been violated before by Turkey and other international powers.
The maritime agreement that could give Turkey access to a contested economic zone across the eastern Mediterranean Sea has been condemned by Greece, Cyprus and Egypt as well as the rival Libyan government.
Erdogan reiterated in Tunis the "link" he saw between the military and maritime accords.
Libya's Interior Minister Fethi Bachagha, a leading Islamist figure in Libya who is widely seen as "Erdogan's man" in Tripoli-based government, further embarrassed Tunisian authorities by statements he made in Tunis Thursday.
He claimed foreign military support to Haftar gives his government have "the right to defend Tripoli and we will officially ask the Turkish government for its military support."
He also expressed the view that "Turkey, Libya, Tunisia and Algeria are part of the same alliance" and warned that if "Tripoli falls, Tunis and Algiers would follow."
His statement prompted Saied's spokesperson to assert that "Tunisia is maintaining its neutrality in the Libyan conflict and keeping the same distance towards the conflict's rivals."
Tunisia's policy in Libya has been till now to mediate an end to the conflict in Libya with the clear aim of blocking foreign interventions there.
Saied, whose country shares a long border of more than 400 kilometers (around 250 miles) with Libya, said that the Turkish-Libyan agreement delimiting the maritime borders between the two countries, "does not concern Tunisia," adding that it is a "Turkish-Libyan issue."
It was the first diplomatic move by Saied, a retired law professor, has no experience in government and diplomacy.
His predecessor late president Beji Caid Essebsi, a veteran diplomat who passed away earlier this year prompting early elections, managed to balance Tunisia's foreign policy and maintained good ties with key Arab and Western nations.
Under the rule of the Islamists and their secularist allies, in the 2011-2014 period, Tunisia broke with its traditional diplomacy of "positive neutrality" – a pivotal security and economic policy that helped it for almost six decades protect its sovereignty and independence amid a tormented regional environment. Tunisia then sided with Turkey and Qatar and the Muslim Brotherhood in the region.
The dominant party in government in Tunisia now as it was in the 2011-2013 is the Islamist Ennahda movement which sees Erdogan as a "symbol of Islamic revival."
With his apparent embrace of Erdogan, Saied triggered secularist concern of Islamists extending sweeping influence onto the diplomatic field.
The Islamists in Tripoli tie their survival  in government  to the multi-faceted support provided by Erdogan who in exchange sees Tripoli's government giving Turkey a chance to expand its role in the Mediterranean gain access to lucrative business opportunities in Libya.
"Danger looms for Tunisia if it were to get involved in a fratricidal war in Libya with devastating impact in Tunisia's stability and its ties with world powers that oppose hegemonic desires of Erdogan," said political writer Ikhlas Latif.
"It reveals a willingness to scupper a traditional Tunisian diplomacy of six decades," she added.
Liberal Afaq Tounes party warned that siding with Erdogan in Libya "plunges Tunisia in regional and sectarian conflicts" with "negative impact in Tunisia's strategic interests and its national security."
The leftist Workers' Party expressed "its shock to see Tunisia host the executioner and tormenter of the Turkish people and the criminal of the war in Syria and hold talks with him over the issue of Libya at this time."
"It warns against the alignment of our county with the ruler of Turkey to serve his interests in Libya where he does not hide his ambitions to steal its oil and gas wealth even at the cost of expanding the bloody confrontations in Libya and causing more foreign interventions."
Machrou Tounes, a centrist party led by Mohsen Marsouk, top aide of late president Caid Essebsi, urged President Saied to invite Haftar, presidents of Egypt and Greece to Tunisia in order "to display neutrality, impartiality and moderation of Tunisia's stand."
Secularist groups called for street demonstrations next Saturday against Erdogan's policy in Libya.