Tunisian Muslim brotherhood attacks PDL leader Abir Moussi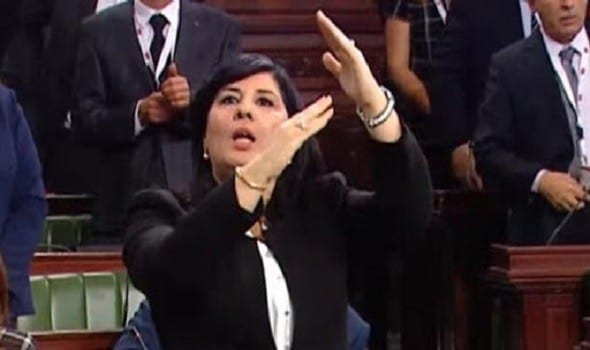 Open sit-in announced by the PDL leader Abir Moussi, in the Tunisian parliament, yesterday, annoyed the allies of the El-Nahda Brotherhood movement headed by Rached Ghannouchi, which coincides with a widespread popular movement against Brotherhood movement and their allies in the country.
Video's showed Today, Wednesday, Al Karma coalition secretary-general Seif Eddine Makhlouf assaulted PLD  leader Abir Moussi in Parliament. 
Makhlouf prevented Moussi from filming, he seized her phone and threatened to damage it if she attempted to film it again. Makhlouf did not hesitate to call Abir Moussi all names, saying that no one can do anything to him.
This attack came after the Tunisian MP, who was famous in the country for her sharp stances towards the Al-Nahda Brotherhood movement and the Dignity Coalition allied with it, announced the entry of her bloc yesterday in an open sit-in inside the parliament, to demand the overthrow of the government led by Hisham El-Mechichi and the removal of Rashid Ghannouchi from the presidency of Parliament.
A totally supernatural scene! We wouldn't even dare to guess what could have transpired if it weren't for other witnesses! Has the parliament become a jungle?
Moussa said in a press conference from inside the parliament that her sit-in was directed at the civilian parliamentary forces that refuse to sign the two petitions to withdraw confidence from al-Mashishi and al-Ghannouchi, despite these blocs declaring their support for the protests calling for the overthrow of the corrupt system of government.
It is noteworthy that the opposition MP had repeatedly accused the Dignity Coalition of promoting violence, terrorism and incitement against MPs in the country.