Tunisian President investigating a significant corruption case involving the National Agricultural Bank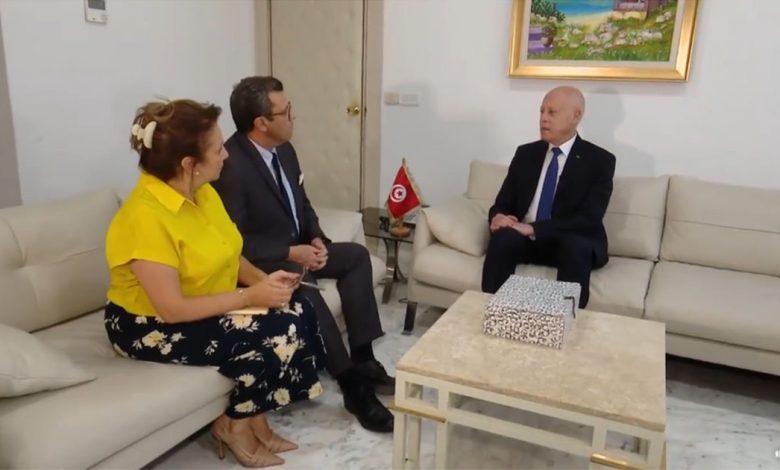 Members of the Financial Analysis Committee, Tunisian President Kais Saied paid a visit to the National Agricultural Bank's headquarters, a governmental institution. During his visit, he revealed that he had personally compiled a dossier highlighting the bank's misconduct in granting substantial loans to individuals and entities without adequate collateral.
President Saied emphasized the bank's historical mission to support the agricultural sector, small-scale farmers, and rural communities by providing interest-free loans. However, he expressed his concern that these funds had been diverted towards lending to wealthy individuals, fictitious companies, and even those without proper guarantees. This diversion, he noted, not only violated the law but also constituted a significant misuse of public funds.
The President presented specific instances where loans worth millions of dinars had been extended to individuals lacking adequate collateral or banking history. Moreover, he highlighted cases where new loans were issued to cover the interest on previous debts, perpetuating an unsustainable financial cycle.
President Saied raised pertinent questions about the bank's practices, such as how it could grant billion-dinar loans amid financial hardships faced by most farmers and the nation. He expressed disbelief at the absence of proper collateral and called for immediate corrective action. He reiterated Tunisia's commitment to combat corruption and the need to cleanse the administration and the country as a whole.
He urged transparency and the protection of everyone's rights within the framework of a public bank like the National Agricultural Bank. He insisted that those responsible for these violations should face criminal prosecution, with a focus on recovering misappropriated funds.
The President also questioned how prominent individuals, including one with a loan of 24 million dinars (approximately 8 million dollars) without guarantees, were allowed to exploit public funds. He underlined the necessity of following up on all violations and urged referring these cases to the judiciary for investigation and prosecution.
In a related development, on Tuesday evening, Tunisian authorities arrested businessman and former Brotherhood parliamentarian Mohamed Freikha in connection with a financial corruption case linked to the state petroleum company "Ajeel." This case also involved the former head of the Shura Council of the Brotherhood Ennahda Movement, Abdul Karim Al-Harouni, who was exposed for receiving loans from a government banking institution without providing proper guarantees.
These recent actions underscore Tunisia's commitment to rooting out corruption and holding those involved accountable for their actions.