Tunisian President Saied meets the Supreme Council of Armies, security leaders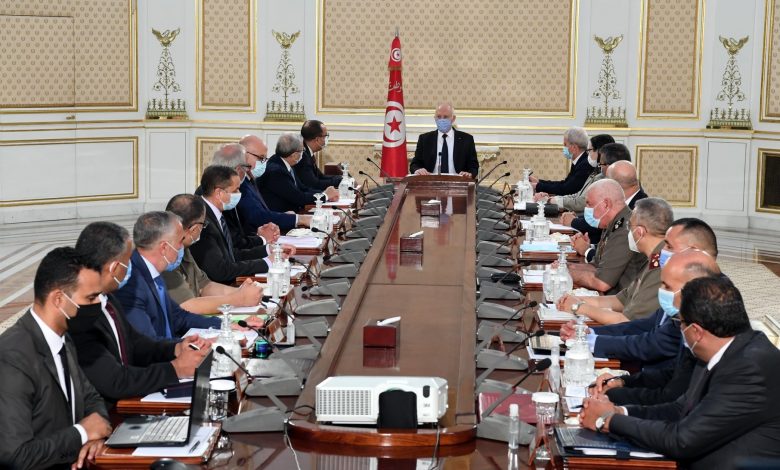 The Tunisian President Kais Saied held a meeting with the Supreme Council of the Armies and security leaders, at the Carthage Palace, to discuss the recent events.
Our reporters noted that most parties in Tunisia had modified their stances, our reporter sadded that as security forces expanded their deployment in several areas, especially in the vicinity of the Parliament, calm prevailed in the streets.
As the Tunisian judiciary initiated an investigation into three political parties, including the "Ennahda" Movement, on suspicions of receiving illegal foreign funding, the Committee for the Defense of Martyrs Chokri Belaid and Mohamed Brahmi described the President's procedure of assuming executive authority as "a proper legal procedure."
A member of the Defense Committee, Iman Qazara, announced that it had filed criminal complaints against the dismissed Minister of Justice Hasna Ben Suleiman, for covering up the criminals. Qazara accused the Minister of Justice of protecting "the influence of the Islamic Brotherhood in the judicial body."
President Saied had ended the missions of the Head of Military Justice and the CEO of the Tunisian Company of Electricity and Gas (STEG). He had also decided to dismiss the State Attorney General and to end the duties of the Government Secretary-General, and the Director of the Prime Minister's office, as well as the Prime Minister's advisers and a number of government officials.
Moreover, Saied decided to end the duties of the Head of the General Authority for Resistance Fighters and Martyrs and Wounded of the Revolution and Terrorist Operations and the Head of Military Justice.