Tunisia's Ennahda party leaders Rached Ghannouchi, Ali Larayedh to face questioning by police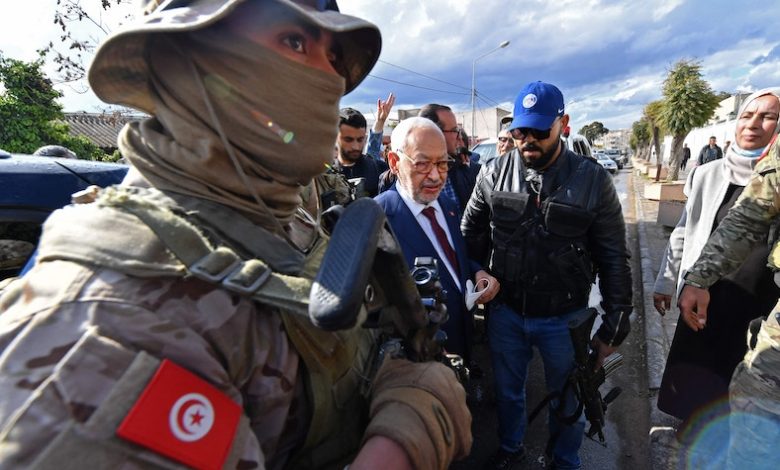 Tunisia is widening the circle of its investigation into the possible connections that are suspected to have facilitated the recruitment of jihadist extremists for their transfer from the North African country to Syria, Iraq and Libya after 2011.
Leaders of Tunisia's Islamist opposition party Ennahda, Rached Ghannouchi and former Minister of Interior Ali Larayedh, have been called for questioning by police on Monday for "sending jihadists to Syria," party officials told Reuters on Saturday.
Ghannouchi told Reuters by telephone that he will appear before police on Monday, adding that he is unaware of the reason.
Reuters did not say if they were to be questioned as defendants of witnesses.
Ghannouchi was questioned last April by a Tunis court on allegations of improper financing of electoral campaigns.
The arrest in recent days of prominent Tunisian businessman and former Islamist MP Mohamed Frikha has signaled the intent of the Tunisian judiciary to widen the probe into the jihadist recruitment networks following months of preliminary investigations.
It is expected the judges will try to shed light on the murky circumstances that led to the recruitment and transport of Tunisian extremist recruits to hotbeds of tension during the past decade. The sensitive issue has been at the heart of political controversy at home over the last few years, with Tunisia often portrayed abroad as the departure point for thousands of jihadist extremists.
The Public Prosecutor at the Anti-Terrorism Judicial Pole recently ordered the detention of Frikha, after a series of arrests which included a number of politicians and security officials.
Frikha had previously denied reports of his involvement as  Syphax Airlines chairman in helping organise the transfer of radicalised Tunisian youths to Syrian and Iraqi battlegrounds. Frikha responded to security reports by saying that he was subject to slander because of his close ties to Ennahda and his decision to run for president in 2014 with the Islamist movement's support.
Also arrested were the leader of the Al Karama Coalition and former lawmaker Mohamed Affes, as well as the former deputy and the Salafist imam, Ridha Jawadi and former brotherhood Ennahda MP Habib Ellouz.
Affes was released pending enquiry, while Jawadi's detention was extended, according to local media reports.
Some sources indicated that the investigation into the despatch of Tunisian youths to Middle East hotbeds of tension was opened following a complaint submitted to the military judiciary by former lawmaker Fatma Mseddi in December 2021.
The woman MP was a member of the committee established by the 2014 parliament investigating the issue. The committee's probe went nowhere.
Mseddi confirmed in a media statement that she introduced a formal lawsuit months after the political changes of July 2021 when President Kais Saeid moved to suspend parliament and start ruling by decree.