Tunisia's Islamists feel aftershock of election quake
The presidential elections results were a defeat for Ennahda and the policies of its leader.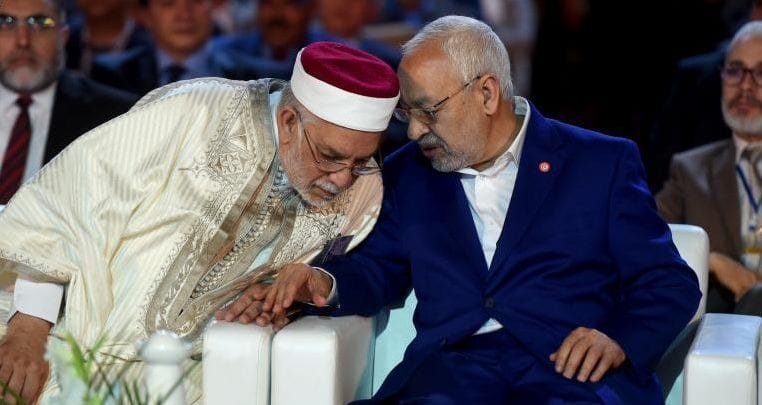 Tunisia's Islamist Ennahda Movement finds itself struggling to regroup after the first round of presidential elections.
It must cope with losing one of its main selling points: its claim to a stable and disciplined base, unified top command that always muffled internal divisions and the advantage of a religious draw cementing its hold on the grassroots.
Those assets helped Ennahda to present itself as a party immune to the infighting that ripped through most modernist and leftist groups in Tunisia.
That has allowed Ennahda to claim being the "indispensable" party for shoring up government stability in the face of political crises amid worsening economic woes and threats of terrorism.
It gave the Islamists a cushion against increased adversity at home and against isolation in Tunisia's environment as political Islam was assailed as a threat. Some US and European political actors have considered banning Muslim Brotherhood-affiliated organisations. Despite its denial of links to the Brotherhood, such moves sparked concern within Ennahda.
Unprecedented challenges to Ennahda's leadership emerged after the first round of presidential election results were considered by many Islamists to be a defeat for the party and the policies of its leader. Ennahda President Rached Ghannouchi was asked for the first time publicly to step down and "go home."
Disgruntled activists assailed Ghannouchi after university law professor Kais Saied, with neither a party nor strong campaign support, and media tycoon Nabil Karoui, in jail on charges of money laundering and tax evasion, had advanced to the presidential election runoff to take place by October 13 at the latest.
The two top contenders defeated 24 other candidates, including Ennahda's Abdelfattah Mourou. Many rank-and-file Ennahda members could not accept Mourou's loss, the first candidate for presidential office to be fielded by the Islamist party.
The protest mood spread to key leaders. The first salvo emanated from Zoubeir Shehoudi, a senior Ennahda official who was for a while Ghannouchi's chief-of-staff.
"I ask him (Ghannouchi) to resign from politics and stay home," Shehoudi said. He accused Ghannouchi of being surrounded by "a corrupt and corrupting minority in the party's leadership."
"I urge him to remove from the party his son-in-law Rafik Abdessalem and all other leaders who forged the willingness of big voters and waged a suppression drive to empty the party of opinion dissidents whether they are youth, women or historical leaders," Shehoudi added in a rare open letter.
The sense of discipline within Ennahda seems also to have broken down. As at least two Ennahda leaders outstepped the cardinal party rule of waiting for orders from the top before going public in matters deemed strategic, such as whom to back in the second round.
Ennahda top figure Abdellatif Mekki urged the Islamists to support Saied in the runoff despite Ennahda saying that "such a strategic issue" needed a decision by the party's policy-making body, Majlis Al-Shura.
Ameur Laarayedh, Ennahda deputy and a brother of movement deputy-president Ali Laarayedth, who is a former prime minister who seeks to replace Ghannouchi as party president, concurred.
"Voting and backing Kais Saied in the second round is the stand dictated by the duty to be faithful to the triumph of the revolution and its goals," said Mekki.
Mekki's words ushered in a return by Islamists to the "revolutionary" narrative they had toned down since the uprising in 2011 that toppled President Zine el-Abidine Ben Ali and has allowed Ghannouchi and his followers to return from a 20-year exile in London and dominate Tunisia's politics.
Mekki and a number of other Ennahda leaders criticised Ghannouchi privately for turning his back to "the revolution demands of freedom, dignity and jobs," giving top priority to deals with the country's old business and political elites to secure more influence in the government and more "respectability and acceptance" abroad.
They saw Saied's stunning lead in the election as a vindication of their political positions and a repudiation of Ghannouchi's strategy for the elections.
Ghannouchi was quickly playing catch-up, saying the party should back the candidate who is "closer to the line of the revolution," an implicit reference to Saied.
Analysts disputed the dissenters' view that the outcome of the presidential vote was a political defeat for Ennahda.
"The case of the Ennahda party is different from other parties. Indeed, even with Abelfattah Mourou ranking third behind Saied and Karoui, one cannot speak of a defeat for Ennahda because huge numbers of Ennahda's partisans and members, who were unhappy with the current leadership of the Islamist movement, voted for Kais Saied," said political writer Sarra Hlaoui.
The current mood, however, adds pressure on Ghannouchi, already criticised for having single-handedly decided the party's policies since he was voted party president in 2016. The Islamist leader is trying to keep the party united in order to do well in the parliamentary elections.
Ghannouchi's immediate challenge is to win a seat for himself in parliamentary elections October 6 in a Tunis district where Ennahda members and officials had initially named Mekki as Ennahda's candidate. However, Ghannouchi intervened and put himself in the contest instead.
Ghannouchi followed the pattern with other leading Ennahda figures, such as lAbdelhamid Jelassi and Mohamed Ben Salem who saw their candidacies knocked out, prompting them to assail Ghannouchi for "unfairness" and " dictatorship." For Ben Salem, "there are mercenaries within Ennahdha and it is only fair that the executive leadership be held accountable."
Ghannouchi has been criticised within Ennahda for filling Ennahda's slates with his own loyalists.
Ghannouchi reportedly aims to be next parliament speaker, if he and other Ennahda candidates were to win most seats.
Ghannouchi doubled down in its initial plan to strike a deal with a "friendly" presidential candidate outside Ennahda that could back him to be the next head of state.
That strategy was upended when Tunisian President Beji Caid Essebsi died in office July 25, prompting the rescheduling of presidential elections from November.
The calendar change pushed Ghannouchi to turn to Mourou as the party's presidential candidate. He won 434,530 votes, an indication that Ennahda's electorate had fallen from 1.5 million in 2011 and 1 million in 2014.
Tunisian experts said they expect Ennahda's traditional voters, as well as radical fundamentalists,  to vote for Saied in the runoff to prevent Karoui from winning because many of them consider Karoui tainted with suspicion of corruption.