Tunisia's main parties shun Ennahda-led government
Ennahda has until December to fashion a parliamentary majority before Tunisian President Kais Saied steps in to select another party to try to form a government.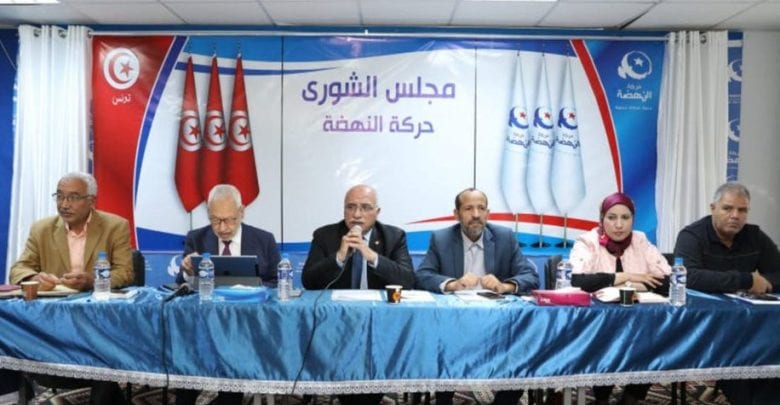 Tunisia's Islamist Ennahda Movement leaders have been trying to form a government that would lead the country for five years but have not found partners willing to join its coalition.
Ennahda officials, especially those close to party President Rached Ghannouchi, insist constitutional and democracy principles grant it the right to form the cabinet and expressed its preference that the government be led by Ghannouchi, who is described by his loyalists as "the most respected political personality at home and abroad."
Ennahda won 52 seats in the 217-member Tunisian parliament in October, the most of any single party. However, weeks of talks with potential allies to establish a government, which needs the support of at least five groups in parliament, hit a deadlock when most potential political partners expressed an unwillingness to take part in a cabinet led by the Islamists.
Ennahda has until December to fashion a parliamentary majority before Tunisian President Kais Saied steps in to select another party to try to form a government.
Only the more extreme Islamist Al Karama coalition, which dubs itself as the "revolutionary base" of Ennahda, accepted. Al Karama controls 21 parliamentary seats.
Two major parties dismissed Ennahda's plan to pick the next prime minister from its own officials following negotiations November 7 on forming a government. The centre-left Democratic Current, with 22 seats, and pan-Arab nationalist People's Movement, with 16 members in the parliament, described Ennahda's proposal as "unacceptable."
The Democratic Current said Ennahda's experience in government in the past eight years showed the Islamists could not be trusted to fight corruption and safeguard the rule of law — two priorities for the new government to win the confidence of regular Tunisians and potential investors.
The People's Movement party said it wants "a presidential government" formed with the support of Saied.
Analysts said the fractured parliament after the elections showed stated ideologies and political stands set certain parties apart, as it is the case for Ennahda and Qalb Tounes, while groups of close ideological and political stands did not have enough members to form a government.
Ennahda ruled out associating with Qalb Tounes, which is led by media magnate Nabil Karoui and has 38 seats in parliament, citing "suspicions of corruption." It also excluded from its talks the Free Destourian Party (PDL), led by lawyer Abir Moussi, which advocates for the legal exclusion of Ennahda from politics. The PDL won 17 seats in parliament.
Main trade union the Tunisian General Labour Union and employers group the Tunisian Union of Industry, Trade and Handicrafts urged political parties to speed up the process of the government formation, citing the dire situation of the country's economy and expectations of an impatient population after the elections.
Outgoing Prime Minister Youssef Chahed's Tahya Tounes party, with 14 seats, offered an apparent way out when it called for a "government of national interest," even though the party said it did not seek to be part of a government led by Ennahda.
Analysts warned that Ennahda could try to solve the problem by sticking to the formation of the government, even if it meant involving regional polarisation at a time when political Islam is seen as a tool used by Turkey, Qatar and Iran to sow strife and instability.
Internally, Ennahda is at a crossroads whether it succeeds in forming a government or not. It faces a leadership transition amid bitter opposition to Ghannouchi from within the party.
"Ennahda appears to be in a watershed moment in its history as it is ripped from within by internal divisions mirrored in the issue of whether Ghannouchi remains president, which means continuity, or be replaced in a rupture with its past," said political writer Abdelwahed Yahiaoui.
Ghannouchi's mandate as party leader ends in 2020 when Ennahda has its congress over strategy and leadership.
"What we hear now in the new discourse of Ennahda's leaders is the use of newspeak that aims at mastering the present, so it can control the future," said political writer Hedi Ben Abbes, who was a junior minister in a coalition led by Ennahda in 2012.
"Ennahda was rarely pushed to the wall like it is now. It is being forced to choose between a painful mutation towards a rule of law with the risk of getting its feathers torn out or a descent into the abyss of the politics of the worse," he said, citing Ennahda's shrinking voter base since 2011 and allegations of legal problems.
Analysts said putting Ennahda in control of the government in Tunisia would likely come with a price for the country because of its tumultuous environment, including in neighbouring Libya where anti-Islamists are fighting Islamists over the control of the capital, Tripoli.
"Our decision makers must take into account this boiling geopolitical environment to demonstrate realism, responsibility, modesty and lucidity to spare the country malicious strategies," said Hedi Taje, director of Global Prospect Intelligence think-tank.