Turkey Arrests Palestinian Journalist "Ahmed Al-Astal", One OF Erdogan's Victims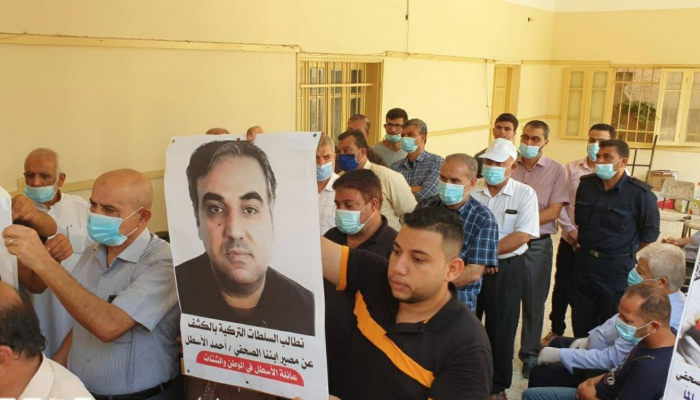 Ahmed Al-Astal, a 45-year-old Palestinian journalist from Gaza, not the first victim of Erdogan's obsession with violating human rights, kidnapping and torturing people in jails to force them confessions of crimes they didn't committed.
The Al-Astal family in Gaza released a statement on social media September 25 stating that he had been "kidnapped" four days earlier in Turkey.
The New sad story, puts the Palestinian journalist between the hands of  Erdogan's Turkish intelligence, with fabricated accusation: "spying for UA" .
His family explained at the time that he worked as a journalist in the Emirates for ten years before moving to Turkey, where he worked in several media outlets, including the Turkish state-run Anadolu News Agency.
In a second statement Tuesday, his family accused Turkey of handling the matter in a "vague" manner, adding that any confessions made by Al-Astal should not be used under duress.
The family urged Palestinian President Mahmoud Abbas to intervene, saying that Al-Astal's wife and two daughters are in Turkey alone and suffering psychologically.
Ahmed Al-Astal family added that he suffers from thyroid cancer, what makes the continuation of his life connected to medicines, anger raged among Palestinian and Arab on social media, condemnation of Turkey's practices against the Palestinians, and it's violation of human rights.
Activists launched the hashtag on Twitter, #Leave_Ahmed_Al-Astal, in an electronic campaign that quickly swept through the social media, and made the web-goers review Ankara's disgraceful history of violating human rights, and fabricating accusations to kill, arrest those who critisies Turkey's policy.
Many activates talked about Turkish opponents and journalists who tortured and murdered inside Erdogan jails, referring that Erdogan using any reason to entrap all his critics and put them in jails after the coup.
Last July, the European Court of Human Rights revealed that the number of complaints made by the Turkish people, both civilians and military, against their government has reached record numbers.
Data obtained from independent Turkish human rights organizations, the court pointed out that, in the past two years, the number of prisoners reached 360,000, the total number of prisoners in one cell increased from 6 prisoners' in 2002 to 35 one currently.
According to the same source, the Turkish Ministry of Justice is building 193 new prisons, added to 580 others in the country, and it is expected that all of these prisons will be completed by 2021 at a cost of about 700 million dollars.
Al-Astal family described the detention of their son a "disgraced theatricality", pointing that the Turkish authorities "denied his presence there at the beginning," and when they contacted them, the authorities began telling lies.
The family added, in a statement to "Al-Ain Al-Akhbaria", that the Turkish authorities "cut off relations between his wife and two daughters to contact any one by confiscating their computers, denouncing that Al-Astal was brought to trial without informing his family or his lawyer.
Palestinian and Arab activists are waiting the intervention of international human rights organizations, the Palestinian and Jordanian authorities, to stop the violations against the journalist Ahmed Al-Astal, and put an end of Turkish violations against its citizens, in order to silence freedoms.