Turkish-backed factions violations Factions levy illegal taxes on Afrin shopkeepers and making their life a living hell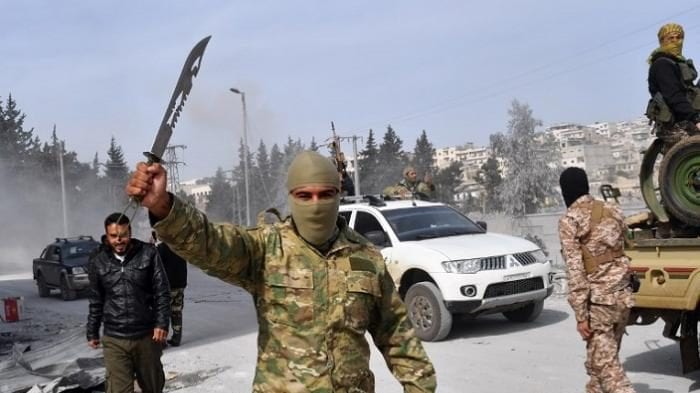 The difficult living conditions are still impacting on the people of Afrin since Turkish forces and proxy factions brought the city under their control. The area is suffering from daily violations, security chaos and almost daily clashes, as well as clamping down on the Kurds in the city by Turkish-backed factions. The violations went beyond intimidations.
According to the distress call received by SOHR, " 'Al-Sultan Murad' division, led by 'M.B.' and two other members, 'A.F.' and 'A.R.', imposed illegal taxes ranging from 10,000 to 100,000 Syrian pounds, whether the shop is owned by an owner or a tenant, with threats to confiscate the shop, evict them from it and rent it for their own benefit, in case they refuse to pay the amount imposed on the owners and tenants of the shops."
The Syrian Observatory for Human Rights has received a distress call from the residents of Afrin who owned shops, complaining that "Al-Sultan Murad" faction imposed illegal taxes on the owners of shops located on Raju road, after demanding shopkeepers prove ownership of their shops.
Reliable sources from inside Afrin have said that "the money is being collected under the pretext of protecting shops, and people are being forced to pay the amount imposed on a monthly basis."
The tragic conditions that the people of Afrin are living in had not deterred these factions from committing violations. Reliable sources have confirmed that "everyone knows that people in Afrin are helpless, and most of them do not have enough money to meet the necessities of daily living, as Syrian currency dropped at unprecedented rate and the astronomical rise in the dollar exchange rate."
Through the Syrian Observatory for Human Rights, the shopkeepers appealed to all organizations and human rights groups to intervene to highlight "the persecution, injustice, theft and imposing of illegal taxes that the people of Afrin face, to force the remaining indigenous people to flee their areas."