Turkish President Erdogan receives Abu Dhabi Crown Prince in Ankara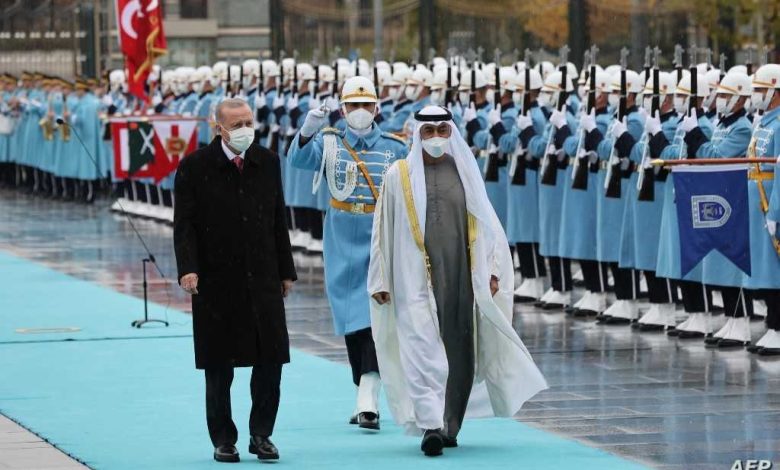 Turkish President Erdogan on Wednesday met with Abu Dhabi Crown Prince Sheikh Mohammed bin Zayed Al Nahyan in Ankara and discussed bilateral relations.
"We had fruitful discussions focusing on ways to strengthen relations between our countries," Al Nahyan said on Twitter.
"I look forward to exploring new cooperation opportunities to benefit our two nations and advance our mutual development goals," Al Nahyan noted.
Following one-on-one talks and meeting between delegations of both countries, Erdogan hosted a dinner in honor of Al Nahyan at the presidential complex.
Earlier, Al Nahyan arrived in the Turkish capital Ankara upon the invitation of Erdogan.
This is his first official visit to Turkey since 2012, and the first top-level meeting between the UAE and Turkey over recent years.
The crown prince was welcomed by Turkey's Trade Minister Mehmet Mus and other officials at Ankara Esenboga airport, and Erdogan held an official welcome ceremony at the presidential complex.
Following his visit to Ankara, Al Nahyan sent a telegram to Erdogan, thanking him for the warm welcome and hospitality.
In his message, Al Nahyan said the visit gave them the opportunity to discuss ways to strengthen the relations between the two countries in a way that would serve common interests, benefit the two friendly peoples, and fulfill their aspirations.
Al Nahyan also wished Erdogan good health and happiness, and the Turkish people lasting security, stability and prosperity.
On Aug. 31, the Turkish president held a phone call with the crown prince in which they discussed bilateral relations and regional issues.
Also, on Aug. 18, Erdogan received the UAE National Security Advisor Tahnoun bin Zayed Al Nahyan at the presidential complex in Ankara, where they discussed bilateral and regional issues as well as UAE investments in Turkey.
The Emirati state news agency WAM reported that the two discussed during the phone call the "prospects of reinforcing the relations between the two nations in a way that serves their common interests and their two peoples."