Turkish President Recep Tayyip Erdogan: We seek to control Sirte and Al Jufrah in Libya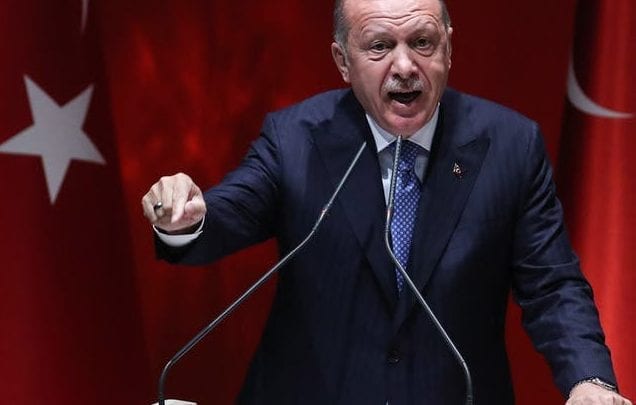 Turkish President Recep Tayyip Erdogan, whose forces lead the reconciliation battles against, said Libyan army In an interview with the TRT Arabic channel, "We seek to control Sirte and Al-Jafra."
Erdogan, who interferes in the Libyan issue despite his signature on the Berlin track, which stipulates non-interference in Libya, added that Turkey has an agreement with the government of reconciliation, noting that the borders of the Mediterranean are clear and explicit.
The Turkish President pointed out that his country now has ships for exploration in the Mediterranean and the Black Sea.
"Turkey violates Libyas sovereignty"
For his part, the Libyan army spokesman, Major General Ahmed Al-Mesmari, confirmed on Monday that the Turkish-backed militias committed war crimes against civilians, noting that Turkey is using its membership in NATO to violate Libyas sovereignty.
He also affirmed that the militias violated the sanctity of citizens, praising the Libyan efforts to assist the displaced in the country.
Claims to investigate war crimes
In addition, Turkey continues to transfer "mercenaries" and Syrian fighters to Libya, in order to fight alongside the Al-Wefaq factions in the face of the Libyan army, despite the condemnations issued by several countries, and despite the signing of an international agreement to non-interference in Libyan affairs in Berlin Early this year.
It is noteworthy that the United Nations last Sunday called on the Tripoli government to "conduct a speedy and impartial investigation" into war crimes believed to be committed by Libyan militias and Syrian mercenaries in Ankara in the cities of Asaba and Tarhuna in the west of the country.
It is noteworthy that the Libyan army had published several times recordings of Syrian fighters who had been arrested in Libya, and admitted that they had come to fight after being seduced by Ankara with money, but they confirmed that they had been subject to a deception.