Turkish regime arrests 20,000 during demonstrations in 4 years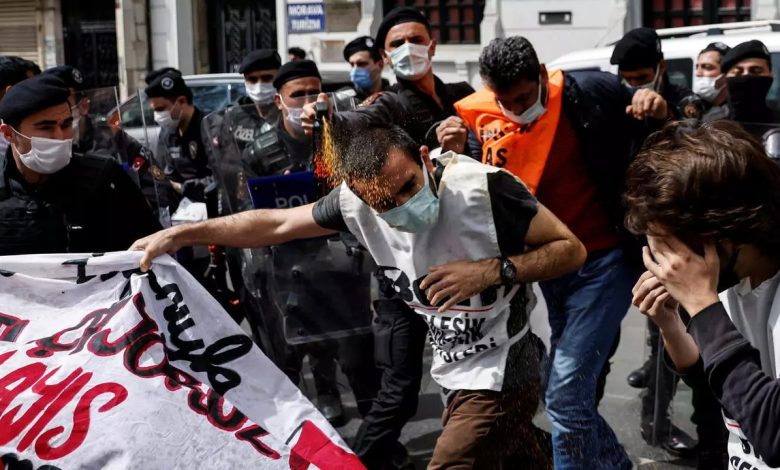 A recent report by the Turkish Human Rights Association found that between 2015 and 2019 in In Turkey, a total of 4,771 violations of the right of assembly and demonstration took place.
The report states that die Authorities over 20,000 people because of their participation in the demonstrations in arrested during this period.
The protesters were mainly accused of "violating the demonstration law", "carrying out terrorist propaganda", "insulting the president", "resisting police forces", "damaging public property" and "belonging to a terrorist group".
According to the report, it was enough die Public prosecutor's office brought an action against 4,907 people, die had exercised their right of assembly during these four years, and fast 1,000 of them were sentenced to prison terms.
A total of 4,907 demonstrators were subjected to police violence, 90 of whom were injured in police fire and 19 died in this period. Of the 19 people killed, 15 were shot, two died from heavy tear gas and another was shot from a tear gas canister.
Human rights violation
According to the report, around 98% of human rights violations occurred during demonstrations, die took place in the open field.
According to the report, police violence occurred mainly during protests, die against die Dismissal of government officials by law and decrees die Kurdish question were organized.
The report states that die Restricting a person's right of assembly also restricts their right to freedom of expression and that collective action is one of the most important avenues for spreading and deepening democracy in every country is.
"The democratization process that we in Experience Turkey also shows in the extensive and systematic violations of the right to assemble and demonstrate, "it says in the report.