Turkish Regime arrests MP Gergerlioğlu from his party's headquarters in parliament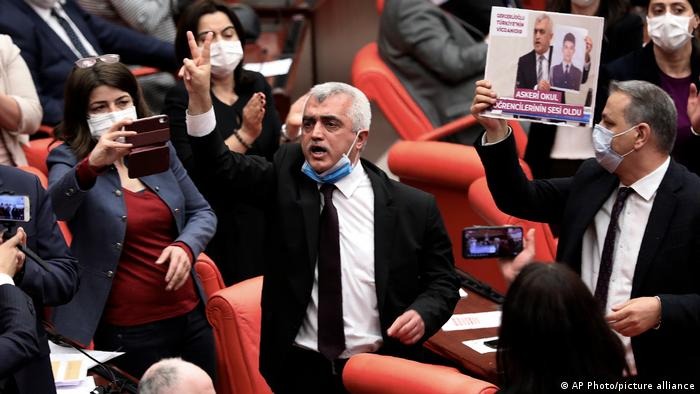 Turkish regime police detained pro-Kurdish Peoples' Democratic Party (HDP) lawmaker Ömer Faruk Gergerlioğlu from his party's headquarters in parliament early on March 21, where he had been staying for four nights to protest the stripping of his MP status on terrorism charges. 
The HDP said he was in pajamas and slippers when police seized him just before his morning prayers in Ankara. He was not allowed to change his clothes, finish his prayer and was not given a mask. HDP deputy Filiz Kerestecioğlu shared footage of the incident. 
Gergerlioğlu's status as a member of parliament was revoked on March 17 and he had refused to leave the building ever since. His detention was carried out as part of a fresh probe launched by the Ankara Chief Public Prosecutor's Office for "not leaving parliament, acting as if he is still a deputy, making press statements on social media and staying in a public building although he has no right to." 
The move to detain a deputy inside parliament premises came after far-right Nationalist Movement Party (MHP) leader Devlet Bahçeli's call on the issue. 
"This filthy individual needs to be removed from parliament urgently. Compromise brings surrender," Bahçeli said on March 20, as he called Gergerlioğlu "a separatist" engaging in an "illegal and illegitimate act" by staying in parliament. 
On August 20, 2016, almost two years before he became a member of parliament, Gergerlioğlu tweeted and commented on a news story briefly reporting that the leadership of the armed Kurdistan Workers' Party (PKK) based in northern Iraq had called on the Turkish state to take a step towards peace. The news story also carried a lengthy response to the PKK call by Bülent Arınç, then the speaker of the parliament and former deputy prime minister.
Turkey's top appeals court upheld the conviction and sentence of two years and six months in prison on Feb. 19. On March 15, the Turkish Parliament Speaker Mustafa Şentop had indicated that steps to strip Gergerlioğlu of his seat may be imminent, though Gergerlioğlu has filed a Constitutional Court challenge to the prosecution against him.
Gergerlioğlu, a physician and longtime human rights advocate, was found guilty in February 2018 of "spreading terrorism propaganda" on the basis of the social media post. 
He will serve a prison sentence of one year and 10 months on the said charge.
In recent weeks Gergerlioğlu has raised the issue of routinely reported strip searches of women taken into custody as a cruel and degrading practice. His work to highlight the issue has received wide coverage in the Turkish media but has been met with full or partial denials by the prison authorities and members of parliament from the ruling coalition.
HDP lawmakers are often accused of having links to the PKK. A number of its deputies were stripped of their statuses in the past and scores of HDP members, including former lawmakers, are currently imprisoned.