U.S. carries out retaliatory air strikes against militia group after 2 American troops killed in Iraq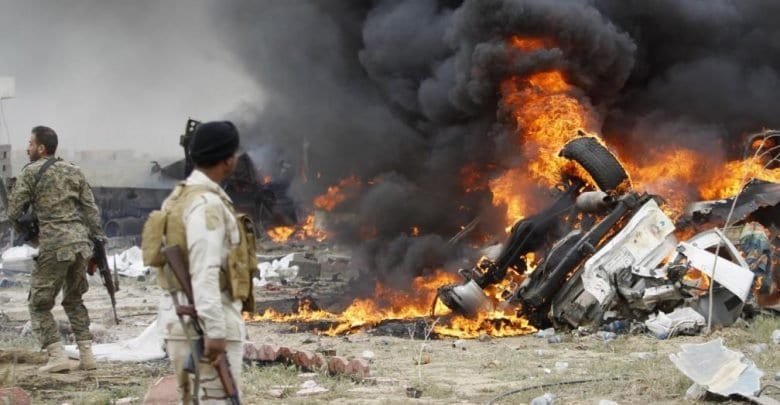 U.S. and coalition aircraft conducted retaliatory airstrikes on Iran-backed Kataib Hezbollah militia group locations in Iraq on Thursday after two U.S. troops were killed in a rocket attack a day earlier, the Defense Department announced.
The strikes come just hours after Pentagon leaders blamed Iranian-backed Shia militia groups and warned that the United States would respond to the deadly attack, which also killed a British service member and wounded 14 others. The airstrikes targeted five Kataib Hezbollah weapons facilities and were aimed at hurting their ability to conduct future attacks against U.S. and coalition forces, according to a Defense Department statement.
The targets included facilities that housed weapons used to target U.S. and coalition troops, according to DoD, which called the strikes "defensive, proportional, and in direct response to the threat posed by Iranian-backed Shia militia groups."
"Let me be clear: The U.S. will not tolerate attacks against our people, our interests or our allies," Defense Secretary Mark Esper told reporters at the Pentagon earlier on Thursday, adding that he spoke to President Donald Trump after the attack and the president gave him "the authority to do what we need to do consistent with his guidance."
Officials at the time did not name the group responsible but said they were "confident" they knew who was behind the attack after capturing the truck that fired off 30 Katyusha rockets, 18 of which landed on Camp Taji, Iraq.
The rocket attack and America's rapid response marked an escalation of tensions that had cooled in recent weeks. Washington and Tehran have been engaged in on-again, off-again hostilities since last summer, when Iran shot down a U.S. military surveillance drone over the Strait of Hormuz.
The group attacked a military base in Kirkuk, Iraq, in December that killed a U.S. contractor. In early January, Trump ordered the targeted killing of Iranian Gen. Qassem Soleimani based on what the administration called an "imminent" threat on U.S. forces.
During discussions with senior Iraqi officials, the Pentagon reemphasized its commitment to protecting coalition service members and to preventing Shia militia group attacks on coalition forces, according to DoD.
"These terror groups must cease their attacks on U.S. and coalition forces or face consequences at a time and place of our choosing," according to the statement.