UK Tories Suffer Losses in Sunak's First Electoral Test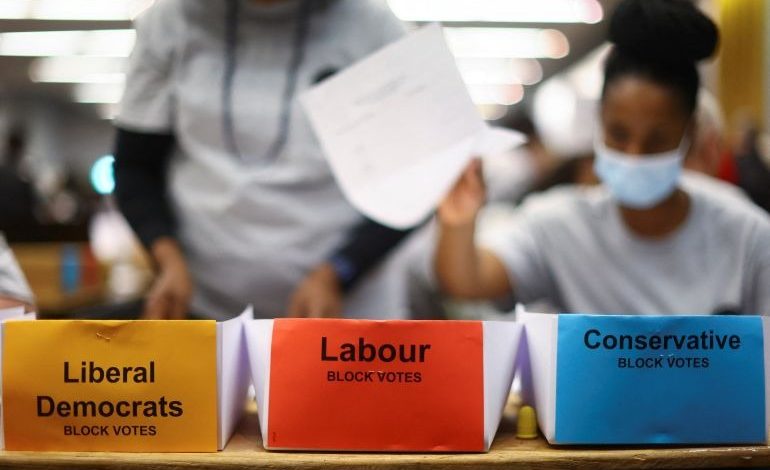 Britain's ruling Conservatives suffered high-profile losses as results poured in on Friday from Prime Minister Rishi Sunak's first major electoral test since he took office in 2022.
The local council elections were held on Thursday across a swathe of England.
The results illuminated the main parties' standing ahead of a Britain-wide general election expected in 2024.
The vote counting will be complete only later on Friday, from 230 English districts electing more than 8,000 council seats.
But the main opposition Labour party crowed that the trend was already clear.
"These results have been a disaster for Rishi Sunak as voters punish him for the Tories' failure," said Ms Shabana Mahmood, Labour's national campaign coordinator.
"These results show that we are on course for a majority Labour government," she added.
By 10.20pm (Singapore time), 111 councils had declared their results, according to British dailies The Telegraph and The Guardian, with Mr Sunak's Tories losing 295 seats so far.
That trend would put the centre-right party on course for its worst defeat in local elections since the mid-1990s, before Labour took power nationally in a landslide under Mr Tony Blair.
Mr Sunak said the results so far showed that people wanted his ruling party to deliver on their priorities.
But he added that it was still too early to draw firm conclusions.
"The message I am hearing from people tonight is that they want us to focus on their priorities and they want us to deliver for them," he told reporters. "In terms of the results, it's still early, we've just had a quarter of the results in, but what I am going to carry on doing is delivering on the people's priorities."
Local constituents have been "talking about older news about former prime ministers – but saying your current leader seems to have what it takes", he told the BBC, insisting that Mr Sunak was on the right track.
Transport Minister Huw Merriman indicated that his party was paying the price for the chaotic few weeks in 2022 when it ditched Mr Boris Johnson and then Ms Liz Truss as leader in quick succession.
"He seems to be turning things around for us, but this is the opportunity for the electorate to give their vote on where we have been previously," Mr Merriman said.
Labour had won 1,150 seats according to The Guardian, and took control of prized targets in Plymouth in south-west England, Medway in the south-east, and Stoke-on-Trent in the Midlands.
Extrapolating to a national result in the next general election, Ms Mahmood said Labour's vote share lead over the Tories stood at more than 8 per cent – enough for leader Keir Starmer to become prime minister.
In national polls, Labour has built a double-digit lead over the Conservatives, and portrayed Thursday as a referendum on "13 years of Tory failure".
The party is particularly targeting its former strongholds in northern England, the so-called "red wall", which Mr Johnson turned Tory in the 2019 general election on a vow to "get Brexit done".
The smaller Liberal Democrat party was up 56 seats, and was making inroads in wealthy Conservative districts on the edge of London that are represented nationally by members of Mr Sunak's Cabinet – the "blue wall".
The centrist opposition party took control of the council in Windsor and Maidenhead, west of London, an area represented in Westminster by former prime minister Theresa May.
"We have delivered a hammer blow to the Conservative party in the blue wall ahead of next year's general election."
"We are exceeding all expectations," Liberal Democrat leader Ed Davey said.
Surveys suggest voters are deeply worried about decades-high inflation and the crisis engulfing the state-run National Health Service, as doctors and nurses strike for better pay.
Mr Sunak already conceded on Wednesday that his Tory party faced a "hard" trial with the voters.
"I've only been prime minister for six months, but I do believe we're making good progress," he said.
Mr Sunak also defended a change introduced by his government for these elections requiring voters to show photo identification for the first time, a move denounced by Labour and others as an attempt to suppress the vote.
The Electoral Reform Society, one of the critics, said on Thursday that it had seen "countless examples of people being denied their right to vote due to these new laws".