Ukraine Biggest Recipient of U.S. Aid Since WWII
Washington has contributed more than $60 billion to Kiev since the beginning of its conflict with Russia, estimates suggest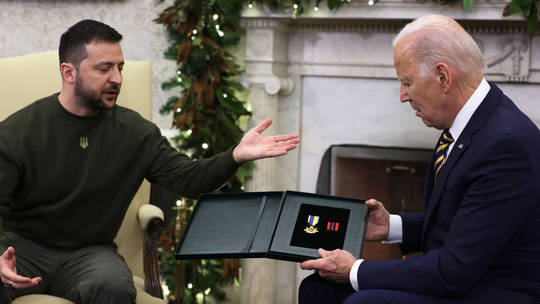 The United States has committed in excess of $60 billion in aid to Ukraine since the beginning of Moscow's military operation last year, according to the Washington Post.
A recent analysis has shown that various US aid packages to Kiev have included $43 billion in direct military aid, making it the US' biggest investment in a country since World War II, according to the paper.
"These are off-the-charts numbers," Michael O'Hanlon of the think tank Brookings Institution told the WP.
The paper notes that Washington's aid to Ukraine vastly surpasses the financial support issued to some of the US' more traditional foreign partners, such as Israel, which was sent $8.6 billion in 2022 and 2023, and the $6.2 billion that was sent to Egypt and Jordan combined during the same period. It also significantly eclipses US financial support for Taiwan.
He added that Washington's financial assistance to Ukraine could only be historically compared to the Marshall Plan – a US foreign aid package issued to Western Europe after the end of World War II. Adjusted for inflation, that initiative funded war recovery efforts to the tune of around $150 billion over three years.
The US Department of Defense has an annual budget of $1.77 trillion, according to government data.
Some signs have shown that public support in the US for continued military assistance is weakening as the conflict enters its 18th month. Research in June found that 44% of Republicans or right-leaning independents believed that Joe Biden's administration was spending too much on Ukraine aid.
However, O'Hanlon pointed out that the US could continue to fund Ukraine indefinitely. "We could do it forever," he said. "It's not economically unsustainable. But it's probably politically unsustainable."
Russian officials have repeatedly warned that shipments of heavy weapons and other military aid to Ukraine make NATO members de facto direct participants in Moscow's conflict with Kiev. Moscow also insisted that Western support would not change the course of the outcome.
Moscow has frequently cited Western support for Ukraine as a primary factor in prolonging the conflict. Anatoly Antonov, Russia's ambassador to the US, responded to a renewed military package from the US to Ukraine last month by saying it is "beyond morality and common sense." He claimed that while Washington seeks to portray itself as Kiev's "selfless benefactor," in practice it only strives for "more human suffering and deaths."