United States Voices 'concern' Over UAE Foreign Minister Visit to Syria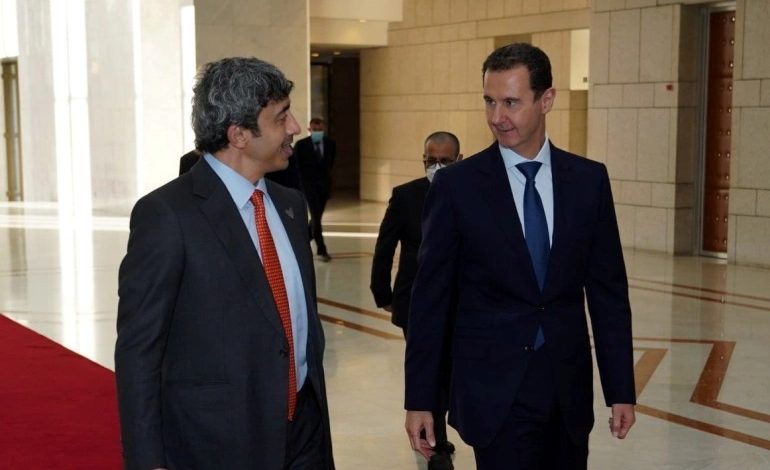 The United States voiced its concern Tuesday over the meeting of the top diplomat of its ally, the United Arab Emirates (UAE), with regime leader Bashar Assad, denouncing efforts to rehabilitate a "brutal dictator." It also issued a veiled warning to regional states to carefully consider any effort to normalize relations with the Syrian regime.
"We are concerned by reports of this meeting and the signal that it sends," State Department spokesperson Ned Price told reporters.
"This administration will not express any support for efforts to normalize or rehabilitate Bashar al-Assad, who is a brutal dictator," Price said, not referring to him as president.
"We urge states in the region to carefully consider the atrocities that this regime, that Bashar al-Assad himself, has perpetrated on the Syrian people over the last decade, as well as the regime's ongoing efforts to deny much of the country access to humanitarian aid and security," he added.
Price declined to say if the United States had conveyed its concerns to the Emirates but said Washington was "not surprised," indicating that there was discussion beforehand.
UAE Foreign Minister Sheikh Abdullah bin Zayed Al Nahyan was paying the first such visit to Syria in a decade, a month after he visited Washington for three-way talks involving Israel.
Arab states have increasingly been warming ties with Assad after concluding that he has effectively won a brutal decadelong civil war.
President Joe Biden's administration has said it is focused on humanitarian relief.
But Price said there was no question of legitimizing Assad.
"There has been no change in our position and Bashar al-Assad certainly has not said anything that would rehabilitate his image or that would suggest that he or his regime is changing its ways," he said.
Price maintained the U.S. would not normalize or upgrade its diplomatic relations with Damascus "nor do we support other countries normalizing or upgrading their relations given the atrocities that this regime has inflicted on its own people."
Bin Zayed's visit comes more than three years after the UAE reopened its embassy in Syria.
In June 2020, former U.S. President Donald Trump's administration warned Abu Dhabi of the repercussions of continued normalization, and the possibility of facing sanctions under the Caesar Act, which authorizes sweeping sanctions on Assad's regime.
Arab normalization efforts with the Syrian regime have accelerated since July, particularly among Jordan, the UAE and Egypt.
The next Arab League summit in Algeria in March is expected to discuss restoring Syria's membership, which has been frozen since 2011 due to the violence of the Assad regime against its people.