US Ambassador to NATO: The decision is for Zelensky.. Either war with Russia or negotiation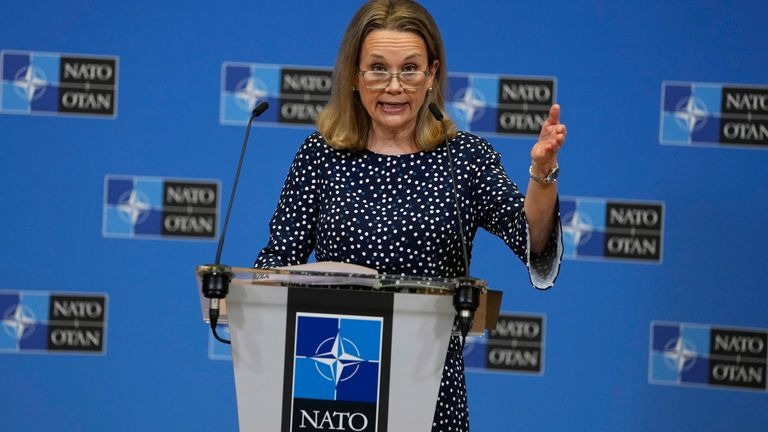 On the eve of the meeting of NATO defense ministers in Brussels, scheduled for Wednesday and Thursday, at NATO headquarters in the Belgian capital, the American ambassador to NATO, Julian Smith, confirmed that the choice is up to the President of Ukraine, Volodymyr Zelensky, stressing that he has the power to negotiate a decision today. With Russia or continue the war.
She added in a virtual press conference on Tuesday, that the lists of Ukraine's military needs have moved from air defense systems to tanks, passing through heavy weapons and coastal protection.
Enhance defense and deterrence
She also made it clear that the defense ministers will discuss in their meetings strengthening defense and deterrence in the east of the alliance in the medium and long term, as well as the issue of the accession of Sweden and Finland, which it considered strengthening NATO's military and political strength.
These developments came while Ukrainian President Volodymyr Zelensky confirmed that his country had enough ammunition to confront Russian forces, with the Russian military operation in Ukraine entering its 111th day.
He told Danish journalists during a press conference today, Tuesday, that the Ukrainian army has enough ammunition and weapons.
But he made it clear that he needs more long-range weapons, in order to repel the Russian forces, especially in the Donbass region, where fierce battles have been raging for weeks.
Zelensky's words came as this region recorded remarkable progress for the Russians, amid repeated calls in recent days by Ukrainian officials that the West should send more weapons and long-range defense systems.
More weapons
It is noteworthy that the defense ministers of NATO member states will meet on June 15-16 at the alliance's headquarters in the Belgian capital.
As the Russian military operation entered its 111th day on Tuesday, amid intensifying battles in eastern Ukraine between Russian and Ukrainian forces, casualties on both sides escalated.
While US President Joe Biden has agreed to provide Ukraine with advanced precision missile systems that can accurately hit long-range Russian targets as part of a $700 million arms package.
Kyiv has long demanded allies of the long-range systems, as well as the Multiple Launch Rocket System (MLRS) that can launch a barrage of missiles hundreds of miles away, hoping to turn the tide of the fighting that has been going on with the Russians since February 24.