Vice President Oktay: Turkey is not anyone's immigration depot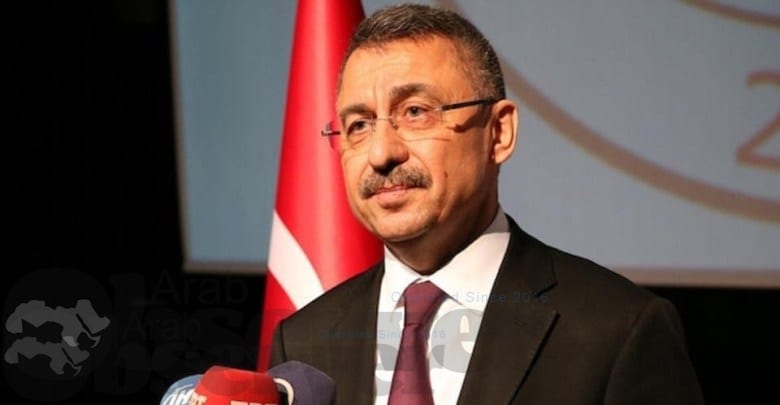 Vice President Fuat Oktay, the 45th Ambrosetti Forum held in Cernobbio, Italy, attended by many important and senior officials from politics, business, economy, finance and energy sectors.
Fuat Oktay, "Davos of Italy," which is described as President Recep Tayyip Erdogan participated in an important forum in 2003 and 2005, he said.
Italy's financial and Oktay stated that they are in one of the most important regions in the field of industry, "today with CEOs and senior executives of major companies in Europe, but we view problems for much of the future today. We have especially discussed the test for the future. Global terrorism in Turkey, regional crises and issues of power shift from west to east actual've passed the views of Turkey, "he said.
Oktay, Turkey's opinion on global terrorism size is already known to everyone, said that the most effective way to combat the continuing terrorist organization in Turkey.
Oktay said that the language of terrorism, religion, race and geography can not be said.
"Terror and a healthier world for future generations collaborating with terrorists, not able to pass them. So we say, no matter what justification by terrorists and terrorism cooperation will not be possible to achieve any goal. Turkey's anti-international cooperation in the struggle, in northern Syria at the moment We brought are currently issues on the agenda. regarding the Syrian immigrants We express our thesis at the point where how Turkey is left alone. West speaks eastward migration all that experienced the sliding world and admits it clearly. Economic, political, there is a shift in the social sense. this shift while there was often asked question Turkey There 's been a shift of axis in Turkey, in particular Russia, the European Union, when the United States and seen its relations with China, an axis shift in Turkey is' questions unfounded. Turkey, a, B, not C-axis has its own to the axis r. Turkey's perspective on the world is governed by its own interests. Turkey has to look at the events around an angle of 180 degrees. In this point of power that shifts from west to east, the competition here should turn into cooperation and opportunities with approaches that not only cause terrorism but also regional crises and vice versa. Turkey is an opportunity for it. "
"EUROPE HAS NO CHANCE TO AVOID IT, PERCENT IS ZERO"
On the reminder that President Recep Tayyip Erdoğan's statement on the new wave of immigration from Syria, "we open our doors", has echoed in Europe, "Oktay is expected to find an echo. This is neither a threat nor a bluff. . There is a crisis in Syria. Turkey has opened up its doors. If there is a fire in the neighboring ours, we have no chance remotely look and if there is a shortage of our brothers there we 'neighbor hungry fed lies' we said we will not be in a position, "he said.
Expressing that the whole world, especially the EU, knows this situation, Fuat Oktay said:
"A new migration if the current start Turkey will counteract this approach, and convenience is definitely wrong comfort and approach. Turkey is not the guardian of any one country. They are not migratory warehouse. Will pay the bill for the crisis they have created is not a country. Nobody is that're sorry. Mr. tell our President Yes, we have done our duty to the end of the immigrants, we are doing, we will do it from now on, especially if the doors are kept, if the Idlib crisis continues, if the crisis in the region continues, if the additional migration crisis will start, Europe has no chance to escape from it, zero percent. have to deal with it. so no one has the right to expect more than the price paid in the framework of Turkey. this is also our President has said. this message is received. "
PRESIDENT ERDOĞAN'S TRAVEL IN THE USA
On a question about President Erdogan's trip to the United States, Oktay said, "We have the program. He will be meeting with the other leaders. If we continue on the Syrian dimension, in fact, both the Astana process and the decisions taken in Sochi will be reflected in the Geneva process. We wish that we could make serious progress before that date, and we would like to see that before that date, the crisis in the region is a concentration towards a solution especially in Idlib crises and perhaps more concrete in the meeting in New York. step can be taken "statements.
"WE WON'T ALLOW ANYONE TO PLAY HERE TIME"
"It is important for Turkey Idlib. Is a crisis. The affect Turkey directly.'Re sensitive to that. Manbij is also important to us." said Vice President Oktay, "the Euphrates to the east is important to us. There is clearly also extremely Turkey's message. on safe region here again Mr. and clear explanations of our President. That can not be our a delaying tactic as manbij tolerate. As of the end of September, a We have followed this very closely on the basis of action on the establishment of the operation center which will be created very closely together and the safe zone that will follow in the future. We will not allow anyone to play here in time ".
PUTIN'S G7 PROPOSAL
Russian President Vladimir Putin, among them Turkey, China and India also views regarding the statement that the creation of a structure similar to G7 can take place asked Fuat Oktay, "In this regard, the event embodied We already give our response and our we needed both initiatives as Turkey, but Turkey as what matters to us, already we G20'D. associated with the G7 are taken in our opinion. Mr. President, is a leading level of discussion topics, albeit indirect, albeit very closely in size all in everything. Turkey, from east to west or a different block sizes does not look at the event, looks at the size of their own interests. If it suits their interests, we can evaluate everything.
"THE PURPOSE OF THE IMPORTANCE OF TURKEY, THE EU DE BE A NICE MESSAGE"
Noting the importance of Putin's statement, Oktay said:
"Turkey is the world's present and future as it is in an important position up to what is actually also relevant, new structures, proposals for new solutions when considering new partnerships when considering Turkey's need to ignore in the playmaker role. Issue is one of the rare leaders who can meet with all parties where our President is not be forgotten. as this was actually to Turkey, which will add strength to the union actually will come. Unfortunately, the EU this power has not yet been able to realize. the EU has started to think small for the branch to own in combat. Maybe this respect the importance of Turkey, It could also be a good message for the EU. "