Visit of the Qatari Foreign Minister to Khartoum is a malicious plot: Sudanese Vice-President of the Sovereign Council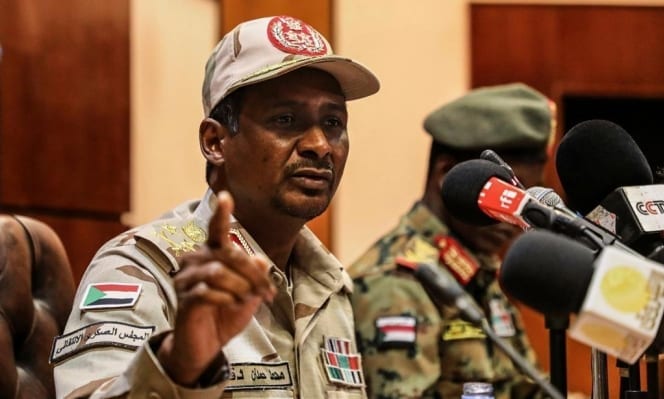 The first deputy head of the Sudanese Sovereign Council, Lieutenant General Muhammad Hamdan Diqlo, described the incident of the visit of Qatar's Foreign Minister, Mohammed bin Abdul Rahman Al Thani, to Khartoum in April last year, as "a malicious conspiracy."
In an interview with the private Sudanese channel 24 this Sunday, Daglo said that this incident "is among the malicious conspiracies … We did not know about the visit, and suddenly they said that the Qatari foreign minister is in the air in Khartoum … We asked" How does a foreign minister come Sudan without permission or coordination? "This is not correct, and the military council said it is not allowed to disembark.""The issue ended at this point, he did not speak to us … Among the conspiracy, someone spoke to me, and I told him that the Qataris challenged us, without asking permission from us and without coordination with us, they sent the foreign minister, so he said there was never coordination with the head of the military council, so I asked The President: "Did you coordinate with the Qataris before the arrival of the Foreign Minister?" So I swear that this did not happen .. We were in a meeting and we all decided that this person does not come, this is what happened, and after that the demonization of the Military Council began.
On the other hand, the vice president of the Sudanese sovereignty council said that among the "demonization of rapid support" plan was to talk about the presence of forces from him in Libya, pointing out that the Sudanese forces "are not making a living."
He pointed out that "sedition occurred" by a group that wanted to "demonize the military council and rapid support", pointing out that "there is no problem with Qatar", stressing that Sudan is open to all the world and is looking for the interest of Sudan, and foreign relations are based on common interests.
He added that Sudan had made contacts for reconciliation in Libya, but there was no soldier or fighter from Rapid Support in Libya.