Volodymyr Zelensky: Changes In Senior Positions Monday and Tuesday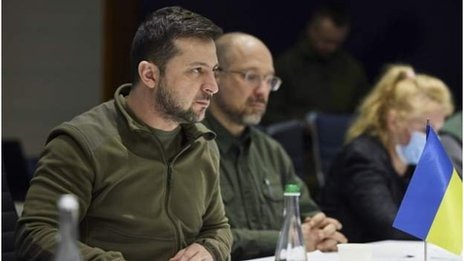 Volodymyr Zelensky said in his videotaped nightly speech, "There are already decisions regarding positions, some today (Monday) and some tomorrow (Tuesday). Regarding officials at various levels in ministries and other central government structures, as well as in regions and in the law enforcement system," .
The Ukrainian president had previously pledged to fight corruption at all levels, amid a series of allegations of bribery and suspicious practices.
And Sunday, Zelensky said: "I want this to be clear: there will be no return to how we were in the past, to the way people close to state institutions used to live, or those who spent their entire lives chasing office."
It is believed that Lozinsky, with the participation of local and regional officials, colluded with contractors to inflate generator prices and extract a commission, according to Ukraine's anti-corruption bodies.
Ukraine's deputy infrastructure minister, Vasyl Lozinski, was arrested and dismissed after being found guilty of stealing $400,000 intended to buy aid, including generators, according to Ukraine's anti-corruption investigators and prosecutors.
Over the summer, the Ukrainian government allocated 1.68 billion hryvnias (about £36.7 million) for goods and technology that would help provide alternative sources of energy, water and heating for the population during the winter.
The move was part of Kyiv's preparations for its energy infrastructure to be targeted by Russian forces, which has already happened regularly starting in September.
Rampant Corruption
• Before the war, corruption scandals were an almost daily feature of Ukrainian political life.
• In 2021, Ukraine was ranked 122 out of 180 in Transparency International, making it one of the most corrupt countries in the world.
• The European Union has made anti-corruption reforms one of the main conditions for Kyiv's membership.