WFP: Gaza is facing a massive food crisis and widespread hunger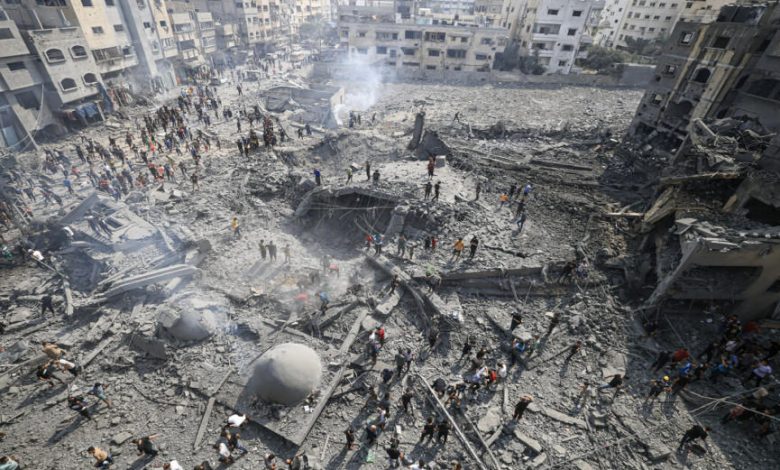 The UN's World Food Program (WFP) warned that Gaza is facing a massive food crisis and widespread hunger.
A WFP also said on Thursday that if immediate action was not taken, the Gaza Strip risked "sliding into hunger hell."
Almost the entire population is in desperate need of food and less than 10 percent of the minimum required supplies have entered the territory since the conflict between Israel and Hamas began on Oct. 7, the organization said.
"Supplies of food and water are practically non-existent in Gaza and only a fraction of what is needed is arriving through the borders," said Cindy McCain, the WFP's executive director.
The only hope is to open another safe passage for the delivery of humanitarian aid to Gaza, she added.
"With winter fast approaching, unsafe and overcrowded shelters, and the lack of clean water, civilians are facing the immediate possibility of starvation. There is no way to meet current hunger needs with one operational border crossing."
A lack of fuel to power ovens forced the closure this week of the last bakery that was still working in partnership with the WFP. The organization confirmed that fuel shortages have resulted in a crippling halt in bread production at all 130 bakeries it worked with in the blockaded territory.
"Bread, a staple food for people in Gaza, is scarce or non-existent," it said.
The fuel crisis is also affecting humanitarian operations and the distribution of aid, including food. Even as trucks arrived across the border from Egypt and unloaded supplies in Gaza on Tuesday, the aid could not be distributed to civilians in shelters because there was not enough fuel for delivery vehicles.
In addition, only 447 trucks out of the 1,129 that have entered Gaza since the Rafah crossing on the border with Egypt reopened on Oct. 21 were carrying food supplies, the WFP said, and the food that has arrived is only enough to meet 7 percent of the population's daily minimum caloric needs.
The organization said it welcomes the recent increase in the number of aid trucks arriving in the territory but added that the amount remains woefully inadequate.
"The collapse of food supply chains is a catastrophic turning point in an already dire situation, where people have been stripped of basic necessities," said Samer Abdeljaber, the WFP's representative and country director in Palestine.
"Without access to fuel, our ability to provide bread or transport food to those in need has been severely compromised, essentially bringing life in Gaza to a standstill. People are going hungry."