Why China's growing influence may be held up in Middle East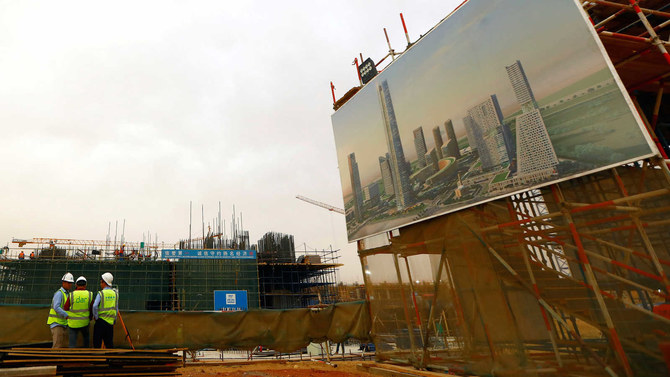 Long before the Belt and Road Initiative entered the political lexicon, decision-makers in Beijing had set their sights on the Arab world. Though originally conceived as a way to create a Chinese bridge connecting East Asia with the frontier of Europe, the initiative has increasingly enveloped the Middle East and North Africa (MENA), as China seeks to extend its writ across an ever-larger expanse.
The conventional wisdom that placed the US as the region's most important international partner is now being challenged by a new reality. China, the main importer of Gulf states' primary export and the greatest manufacturing exporter to the rest of the Arab world, is increasingly at the forefront of foreign policy considerations. A century of orientating themselves toward Western nations has developed an institutional memory and political awareness across the Arab world, but the prospect of ever more frequent contact and relations with Beijing requires a recalibration of objectives and policy.
Like every great power's path to global hegemony before it, China's acceleration is powered by its expansion overseas. The overwhelming production, supply and demand for Chinese-manufactured goods characterized its growing place in the world, but its more recent policies show how overwhelmingly successful that growth has been in extending its influence. Much has been made of Beijing's "resource grab" in Africa and elsewhere, its construction of militarized artificial islands and, most recently, its strategy to project naval power broadly in the open seas. These realities have brought Chinese power into new spheres of influence, among them the Arab world.
Generalizations about an area as large and diverse as the Arab world are unhelpful, but one commonality is China's attitude toward the region. "Western Asia," as Chinese diplomats refer to MENA, is of growing importance to Beijing. China's path toward building the largest economy in the world is driven by access to energy and securing its shipping — its increased engagement in the Arab world has, therefore, been determined by a need to ensure its energy security.
This gradual but seemingly irreversible shift in Beijing's strategic calculations emanates from the fact that China is now the primary buyer of Middle Eastern oil. The country's sheer size and rapid growth, alongside its relative scarceness of domestic petroleum resources, have meant that Beijing has been the primary growth market for Arab oil producers in recent years. As Beijing has become more fuel import dependent — with some 72 percent of all oil consumed in China coming from overseas — the geopolitical significance of its relations with Gulf exporters has grown. In the context of a general downward trajectory in oil consumption elsewhere in the world, owing to the development of new energy sources, China is central to guaranteeing profitable oil exports to 2050.
With the increased importance of the land and sea routes connecting Asia with Europe and Africa, China increasingly sees relations with the Arab world as central to its geostrategic ambitions. There is, however, a disconnect between the expansion of Chinese involvement in the region across the political and economic realms and the cultural and diplomatic connectivity required to deepen ties that will not only ensure Chinese interests, but also encourage Arab states to partake in the new world China is building in its own image.
The post-Second World War world of economic interdependence that the US built was forced forward by American culture as much as it was by Washington's expansionism. Built upon the foundations of global trade left by the British Empire, the Arab world was already, in many respects, integrated and predisposed to being a part of what political scientists have labeled the Pax Americana. The foundations for a closer relationship with China are less clear: Sino-Arab relations are in no way at the stage envisaged back in the mid-2000s, when the China-Arab States Cooperation Forum was set up.
China has developed comprehensive strategic partnerships (its highest level in diplomatic relations) with individual countries in the region, such as Saudi Arabia, the UAE, Egypt and Algeria. But these efforts are isolated and illustrative of a need for China to have a more comprehensive and long-term set of relationships with Arab countries. Adel Hamaizia, an associate fellow at Chatham House, contends that "the perennial lack of coordination among MENA countries on economic matters will likely perpetuate the prevailing commercial asymmetries in China's favor."
Sino-Arab relations are in no way at the stage envisaged back in the mid-2000s, when the China-Arab States Cooperation Forum was set up.

Zaid M. Belbagi
The Belt and Road Initiative was initially intended to address the "infrastructure gap" between the more and less-developed regions of the world, thereby driving economic growth. Following the growing indebtedness developing countries have incurred in agreeing to Chinese support for such projects, however, China has had to reconsider its overseas objectives. To this end, its strategic goals increasingly encompass the MENA region under Xi Jinping's proactive foreign policy that is focusing on security, economic and political concerns.
Most MENA countries have agreed to participate in China's transcontinental initiative, but their subscription to China's model of development is far from complete. As the MENA region contends with the fiscal challenges of the coronavirus disease fallout, it is unclear whether Chinese ambitions and engagements will expand at the same pace they were pre-pandemic. In any case, it is testimony to the developmental challenges of the Arab world that its states are spectators to international shifts in power and not determinants of them — this should stand at the forefront of shaping diplomatic efforts with China.