Zarif accuses US of turning Gulf region into "flammable sulfur can"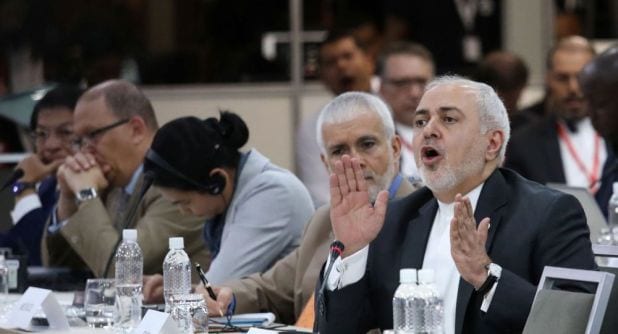 Iranian Foreign Minister Mohammad Javad Zarif accused the United States of turning the Gulf into a "flammable sulfur can."
Zarif, in an interview with the channel "Al Jazeera" quoted by the agency "Reuters", on Monday: "The Gulf is tight and the more the presence of foreign ships in it becomes less secure."
He added: "Dumping the region with weapons by America and its allies turned it into a combustible sulfur can."
Zarif said earlier in a meeting with his Qatari counterpart in Doha that "the security of the Gulf waters is the responsibility of the countries of the region itself, not the responsibility of foreign forces."
Zarif threatened "foreign forces and military alliances, and stressed that they were defeated in advance and pave the way to destabilize the security of the region," referring to Iran's responsibility to maintain peace and stability in the region, according to the agency "Tasnim" Iranian.
Iranian Foreign Minister Mohammad Javad Zarif also stressed the importance of developing political and economic relations between the two countries.
Qatari Foreign Minister Sheikh Mohammad bin Abdul Rahman Al Thani discussed with his Iranian counterpart Mohammad Javad Zarif on Sunday evening ways of enhancing relations between the two countries and other issues of common concern.
"The Foreign Minister Sheikh Mohammad bin Abdul Rahman Al Thani met with Iranian Foreign Minister Mohammad Javad Zarif in Doha," Qatari Foreign Ministry Information Office said on its official website, adding that bilateral relations and ways of enhancing them were reviewed. Of common interest. "