Ziyash offered himself to Barcelona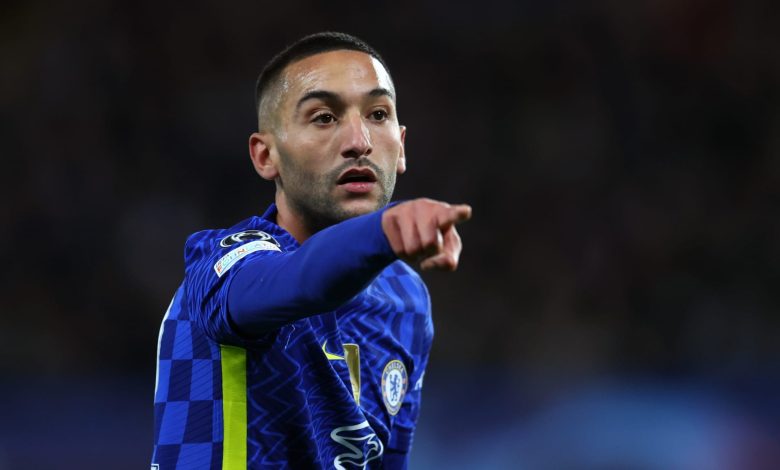 According to press reports, the Moroccan player, Hakim Ziyech, "presented himself" to the Spanish club Barcelona, ​​seeking to move from Chelsea, "for fear of a summer crowded with transfers."
And the Spanish newspaper "Sport" reported that the Chelsea winger and the star of the Moroccan national team, Hakim Ziyech, "offered his services to Barcelona, ​​​​because" he fears that he will decline in terms of the technical staff's options, and that he will remain on the bench, with Chelsea's desire to include new players.
The Moroccan international has participated in only 5 matches in all Chelsea competitions so far this season, and his chances seem more limited thanks to the January transfer window, during which he signed 6 players.
Ahead of the January window, there was already plenty of competition among the players at Chelsea, with Raheem Sterling, Mason Mount and Christian Pulisic vying for fixtures from the outset.
Chelsea's sixth signing came during the winter transfers, with Noni Madueki, who plays in the same position as Ziyash, for 26 million pounds, coming from PSV Eindhoven.
Chelsea also got more offensive reinforcements, through Mikhaylo Modric from Shakhtar Donetsk, for 88 million pounds sterling, and Joao Felix on loan from Atletico Madrid.
"Sport" noted that "Barcelona had already put Ziyash in the last stage in choosing the players who would move to the club last year, before choosing to sign Ferran Torres and Adama Traore on loan."
Since joining Chelsea for £33m in 2020, Ziyash has participated in 97 matches with the club, scoring 14 goals and making 11 assists.
It is noteworthy that Ziyash caught the world's attention during his brilliance with the Moroccan national team in the World Cup in Qatar, becoming the first Arab team to reach the semi-final stage in the World Championship.