3 secret associations of Tunisia Brotherhood plan to destroy the country by foreign funding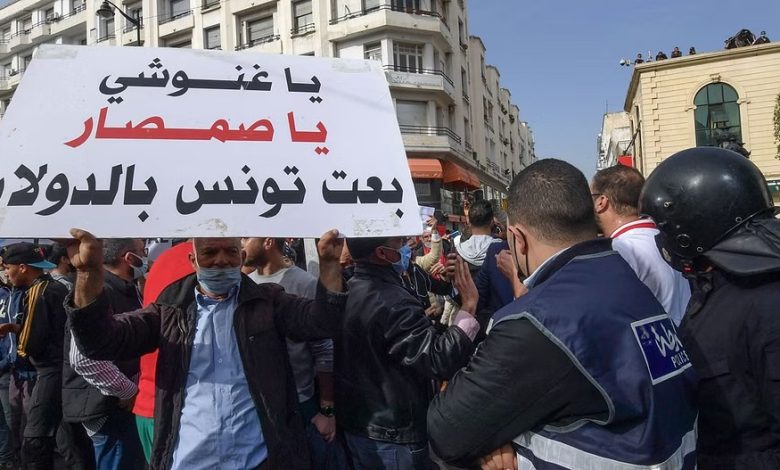 After about 12 years of their presence in Tunisia, the Brotherhood's masks began to fall and corruption crimes were revealed from their secret funds planing to destroy peaceful path of the Tunisian state and the foreign funding allocated to this scheme.
Observers believe that huge amounts of foreign money entered the country to support the destructive scheme implemented by the Brotherhood of Tunisia to fund terrorism and infiltrating all aspects of the country.
On July 6, 2022, the Tunisian judiciary opened the financial file of the Ennahda Brotherhood movement, after summoning its president, Rashid Ghannouchi, to investigate suspicions of money laundering, before ordering the freezing of his assets and other leaders associated with the terrorist movement.
The huge spending of the Brotherhood movement, whether in electoral campaigns or meetings aims of penetrating the street and co-opting it, often raised questions about the source of that money specially that Ghannouchi didn't have any economic activity.
This was previously revealed by the defense committee of politicians Shokri Belaid and Mohamed Brahmi, who were assassinated in 2013, as the evidence that is still under investigation showed that the Tunisian Brotherhood had a secret financial apparatus through which they carried out their crimes.
According to identical reports, the terrorist organization obtains funds from "Namaa" and "Merhama" charitable associations".
Ghannouchi sold Tunisia
Reda Radawi, a Tunisian lawyer and member of the defense team for Shokri Belaid and Mohamed Brahmi, believes that the secret financial apparatus of Ghannouchi is involved in money laundering, and in deporting Tunisian youth to Syria to join ISIS.
Al-Radawi says, "Ghannouchi sold Tunisia and its soil in exchange for sums of money in euros and dollars, as his main goal was only to destroy the country."
He explains: "It appears in the Nama Association, which includes a group of people linked to Ennahda movement, its role lies in encouraging investment, but its hidden role lies in managing the battle of deportation through sums of money from abroad," noting that some members of the association are in a direct relationship with Rashid Ghannouchi. who undertook this whole business.
He added, "A lot of money reached the Brotherhood in the past ten years, and it was entering Tunisia in cash, specifically when the Brotherhood member Ali Al-Areedh, controlled the ceremonial hall at Tunis-Carthage Airport, as he was the Minister of the Interior at that time."
Mercy Association
As for Al-Radawi, "The Merhama Association was also established in 2013, and obtained financial flows of more than 16 million dinars (equivalent to about $5.5 million) from suspicious associations accused of terrorism.
He continued, "In 2018 only, the association obtained 11,200,000 dinars (about 4 million dollars), and so they ran the 2019 elections, this is how the money was entering Tunisia."
He pointed out that "the brotherhood Abd al-Karim Suleiman (who was recently imprisoned in the "Namaa" case) also has relations with travel agencies, specifically with a specific travel agency that carried out deportation operations, and there are financial transactions that he said are the value of his profits, which is in return for selling Tunisian youth to hotbeds of tension."
On January 11, Suleiman was arrested on charges of money laundering, as he is suspected of being involved in obtaining suspicious financial flows from abroad after 2011.
The money that he is suspected of obtaining is estimated at more than 100 million dinars (about 30 million dollars), before depositing it inside under front companies in complex ways, in addition to owning many real estate worth millions of Tunisian dinars.
Abd al-Karim Suleiman is "the puzzle" name, the leader in the Brotherhood movement, one of Rashid al-Ghannouchi's close men, and the one responsible for the organization's funds of unknown origin in Tunisia.
3 Secret associations
For his part, Al-Sahbi Al-Siddiq, a Tunisian political analyst, considers that "these associations have contributed over the years to financing the declared and undeclared activity of the Brotherhood movement, and helped in transporting terrorists to hotbeds of tension and giving them huge sums of money for killing and bloodshed."
Al-Siddiq says, "Since the case of Shukri Belaid and Muhammad al-Brahmi filed cases against the leaders of the Brotherhood, including Abdul Karim Suleiman and Ali Al-Areed, many members of these associations have been imprisoned," adding " accountability still continuing."
He pointed out that Ennahda Brotherhood movement has 3 secret services headed by Rashid Al-Ghannouchi, which is a financial, military, and third intelligence apparatus, which made the movement easily penetrate the state's.
On June 27, 2022, the judicial combating terrorism decided to open a judicial investigation against officials of "Namaa" association, for crimes related to "Money laundering, and suspicion of financing persons or organizations linked to terrorism."
It is suspected that, in 2013 alone, the association obtained financing worth 20 million dinars ($6.5 million).
The defense team for Belaid and Brahmi had previously filed a number of complaints against the head of the Ennahda movement, Rashid Ghannouchi, and a number of judges like Bashir al-Akrami, on charges including money laundering and espionage.