Guterres visits Rafah crossing ahead of Gaza aid delivery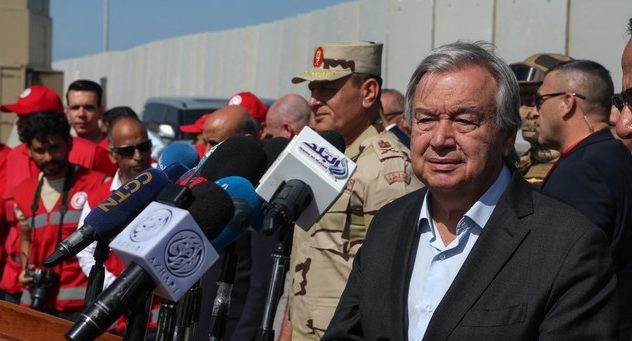 U.N. Secretary-General Antonio Guterres visited the Rafah border crossing on Friday and said aid trucks needed to move as quickly as possible from Egypt into the besieged Palestinian enclave of Gaza to alleviate a humanitarian crisis. Guterres flew to Egypt on Friday in a push to get the trucks moving.
"These trucks are not just trucks – they are a lifeline, they are the difference between life and death to many people in Gaza," he said, speaking on the Egyptian side of the crossing.
"To see them stuck here makes me very clear – what we need is to make them move, to make them move to the other side of this wall to make them move as quickly as possible and as many as possible."
Guterres, dressed in a dark suit under the desert sun, also called for a swift system of verification of the aid shipments.
"We are now actively engaging with all the parties, actively engaging with Egypt, with Israel, with the U.S., in order to make sure that we are able to clarify those conditions, that we are able to limit those restrictions in order to have as soon as possible these trucks moving to where they are needed," he said.
The crossing has become a focus of attention since Israel began its bombing of Gaza in retaliation for a deadly assault by the Hamas militant group on southern Israel on Oct. 7.
Gaza is running short of fuel, food, water and medicine but the Egyptian-controlled border has remained shut while various parties wrangle over terms for allowing aid to flow in.
In Geneva, the U.N. humanitarian office said it was in advanced talks with all parties in the Israel-Hamas conflict to ensure an aid operation can soon get underway in Gaza.
Earlier, the United States had said details of a deal to send aid through the Rafah crossing were still being hammered out. Agreement had been reached for the passage of the first 20 trucks, it also said.
This would still only be a fraction of what is required. Before the outbreak of conflict, about 450 aid trucks were arriving there daily.
"Talking about 20 trucks only is a Zionist-American attempt to throw dust in the eyes, and is misleading to the public opinion about resolving the catastrophic humanitarian crisis in Gaza," said Hamas in a statement.
Most of Gaza's 2.3 million people depend on humanitarian aid. The coastal enclave has been under a blockade imposed by Israel and Egypt since Hamas took control of it in 2007.
In Geneva, Jens Laerke, spokesperson for the U.N. Office for the Coordination of Humanitarian Affairs (OCHA), said Gaza was in dire need of water, food, fuel and medical supplies.
"We are in deep and advanced negotiations with all relevant sides to ensure that an aid operation into Gaza starts as quickly as possible and with the right conditions," he said.