Tunisia Role in Nice Terror Attack!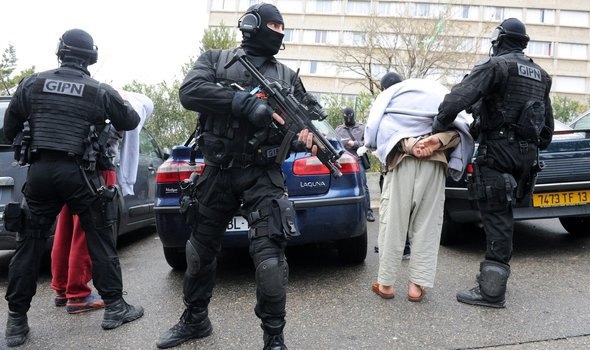 French Foreign Minister Le Drian said, after meeting President Emmanuel Macron with the Defense Council, that "a message has been sent regarding the highest level of risk from possible attacks, to all our citizens abroad, wherever they are, because the threat is everywhere."
Le Drian called on his country's citizens living abroad to exercise caution, in the wake of the Nice attack, indicating that there is a threat to French interests "everywhere", while the French Interior Minister Gerald Darmanan warned yesterday. , It is likely that more attacks will take place on the French territory.
Le Drian stated that instructions have been directed to French ambassadors abroad, to intensify security measures in their embassies, and to citizens abroad, and called for extreme caution in the vicinity of schools.
He explained, "We have taken a decision not to open educational institutions, except after taking the necessary measures and taking care of parents, teachers and students."
Le Drian indicated that these measures are taken "in cooperation with the local authorities, which generally help us."
On the other hand, Interior Minister Gerald Darmanan said after the meeting that 120 additional police officers would be sent to Nice, where the attack took place Thursday.
Darmanan added: It is likely that more attacks will occur on the territory of France, after it witnessed the second deadly attack, within two weeks.
Darmanan was speaking, a day after an attacker beheaded a woman and killed two others in a church in Nice, France.
The attacker was shot by police and he is now in critical condition in hospital.
"We are fighting a war against an enemy … at home and abroad," Darmanan told RTL radio.
He continued, "We must realize that such horrific attacks have occurred, other events like them will take place."
President Emmanuel Macron ordered the deployment of thousands of soldiers to protect important sites, such as places of worship and schools, and it was decided to raise the state of security alert in the country to its highest levels.
The French counterterrorism prosecutor, Jean-Francois Ricard, said that the suspected attacker was a Tunisian, born in 1999, and arrived on September 20 on the Italian island of Lampedusa, facing the coast of Tunisia, which is a major destination for migrants from Africa.
A Tunisian security source, and another in the French police, said that he was called Ibrahim El-Ouesawi.
A judicial source said that a 47-year-old man was detained, the day before yesterday, on suspicion of linking to the attacker.
The Nice attack took place, less than two weeks after the history teacher Samuel Patty was beheaded in a suburb of Paris by an eighteen-year-old man of Chechen origin, who was angered by the teacher's display of offensive cartoons to his students during a lesson on freedom of expression.
People gathered in front of Notre Dame Church, where the attack took place, yesterday morning, to lay flowers and light candles.
Jean-Francois Ricard said that the suspect arrived in Nice by train, early Thursday morning, and went to the church, where he stabbed and killed a fifty-five-year-old man, then beheaded a 60-year-old woman.
He also stabbed a 44-year-old woman, who managed to flee to a nearby cafe, where she was informed of the attack before she died.
Then the police arrived, and confronted the attacker, and shot him.
In the Tunisian city of Sfax, the attacker's family said that he made a video call to them in front of the church, hours before the attack, but gave no indications that he intended to commit any violence.
His sister Afaf stated that he went to Notre Dame Church, upon his arrival in Nice, the day before yesterday, in search of a place to sleep, adding that he had informed them that he intended to stay in a building facing the church.
The family members told «Reuters» that they are in a state of shock, and do not imagine committing such a crime.
His older brother Yassin said: "My brother is a friendly person, and he never showed extremism.
He respected all people, and accepted their differences even since he was a child. "
The police went to the Al-Owaisawi family, the day before yesterday, and conducted investigations with the family members, who denied that he was a militant.
The Tunisian authorities stated that he was not included in the police lists as a suspected militant, indicating that they had also launched an investigation.
However, a Tunisian judicial official revealed, to "Reuters", that the suspect in the Nice attack had previously been arrested in 2016, due to violence and the use of white weapons.
The spokesman for the Tunis Court of First Instance, Mohsen El-Daly, said yesterday that the judicial file refers to his arrest four years ago, due to violence in the area where he resides, when he was a minor.
The foreign affairs expert for the German opposition Green Party, Cem Ozdemir, has accused Turkish President Recep Tayyip Erdogan of promoting terrorism in Europe.
Ozdemir said, in statements to the newspapers of the German "Deutschland" media network issued yesterday, that "measures must be taken against all these inciters, who continue to fuel religious tendency for their own purposes, motivated by cheap accounts."
"Turkish President Erdogan is constantly pouring oil on the fire, and thus contributes to violence and terrorism," he added, after the suspected extremist stabbing attack in Nice, southern France.
"In Germany, we need to deal differently with Islamic organizations," Ozdemir said.
These organizations must be established completely according to our constitution, and become independent from foreign governments. "
Tunisia is investigating the presence of an organization that claimed responsibility for the Nice attack
Tunisia Africa News Agency said that Tunisia has opened an investigation to investigate the truth and credibility of the existence of an organization called "Al Mahdi in Southern Tunisia", which claimed responsibility for an attack that took place in Nice, France, the day before yesterday.
The agency quoted Judge Mohsen al-Dali as saying that the investigation began, after monitoring a post on social media, indicating the adoption of the operation.