Abir Moussa: "Our country is living A crisis that threatens its stability because of the Muslim Brotherhood"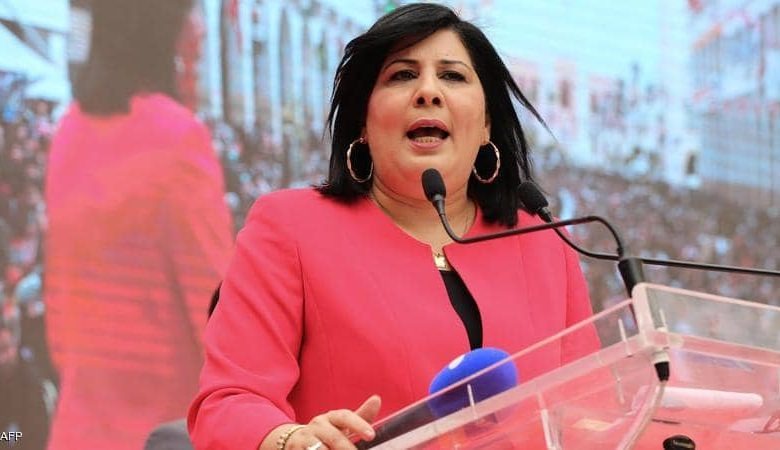 Abir Moussa, the head of the Free Constitutional Party in Tunisia, said that her country is living A crisis that threatens its stability because of the Muslim Brotherhood, and it is waiting for a decision from Tunisian President Kais Saied to hold them accountable.
She explained in an interview with an Egyptian satellite channel on Friday evening that the Tunisian reality is witnessing a "constitutional crisis at the level of the bad economic, tense political, and social conditions that are threatened, as a result of the rule of the Brotherhood, who knew that they would be rejected by the Tunisian people and street."
She also considered that this constitutional crisis "worries everyone and threatens the existence and stability of the state," saying, "We are waiting for a decision from the President of the Republic to put an end to the Muslim Brotherhood, hold them accountable and return them to their normal size, so that Tunisia can recover."
"Confronting Attempts to Disappear the Homeland"
She said that her party will stand up to attempts to "disappear the homeland", and will work to make the matter in the hands of the people.
Three parliamentary blocs (the Democratic Bloc, the Reform Bloc, and the Long Live Tunisia Bloc) accused, on Thursday, the Speaker of the Tunisian Parliament, the leader of the Ennahda movement, Rashid Ghannouchi, of dictatorship.
She also hinted at boycotting the work of the general parliamentary sessions, calling for judicial follow-up to the two deputies who violently assaulted the head of the Constitutional Party a few days ago.
Attacking Moses
It is noteworthy that, last Wednesday, Moussa was subjected to two attacks in the plenary hall of Parliament, and in one day, by both MP Sahbi Samara and head of the "Dignity Coalition" bloc, Seif El-Din Makhlouf (Ghannouchi's ally), in an incident that sparked widespread controversy in the country.
The Speaker of Parliament topped the list of least trusted political figures in the country, whom Tunisians do not want to play any political role, according to an opinion poll conducted by the specialized Sigma Konsai Foundation.
For months, Tunisia has been witnessing a sharp political division, and several criticisms of the Ennahda movement, amid a sharp decline in the percentage of support and confidence in its leader, Rashid Ghannouchi, according to the latest opinion polls in the country.