Algeria continues to struggle to forge ties in a changing world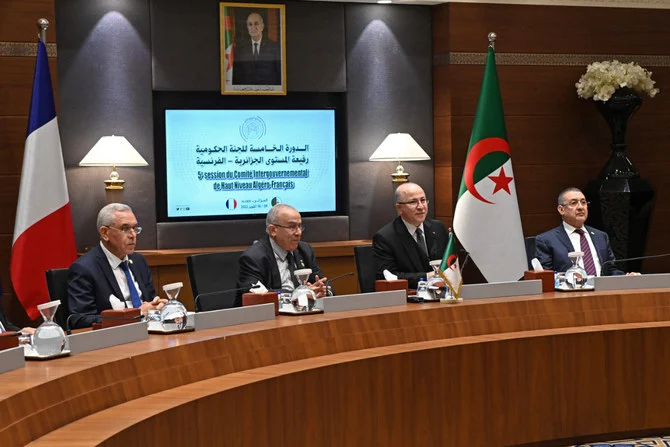 When President Abdelmadjid Tebboune came to power in Algeria three years ago, his administration sought to rehabilitate a crippled foreign policy. He has erred on the side of caution with a strategy that seeks to balance regional and international factors while diversifying its list of international partners in pursuit of somewhat balanced, slightly nuanced external relations.
This is an encouraging first step after a lost decade, during which Algiers' regional and, arguably, continental heft diminished considerably.
To the rest of the world, however, this "new" diplomacy remains overshadowed by the Cold War-esque mentality of an aged and ailing military shadow regime that is responsible for the North African country's diplomatic and political isolation.
Next month, Algeria will seek to reclaim its regional preeminence when it hosts the Arab League summit — but the timing could not be worse. The dispute over the Western Sahara has only intensified in the past two years, while an ongoing intra-Arab tug of war over Syria's return to the Arab League, which Algiers supports, will cast a long shadow over the entire summit.
In addition, Algeria's role in Libya is causing brows to furrow in Tunis and Cairo, while security ties between Algiers and Moscow have long been a sore point for Washington.
If Algeria is indeed intent on building or participating in the kind of sophisticated multilateral partnerships now typical in our disordered world, the country has arrived at a pivotal moment. One wrong step forward or backward and Algiers might never recover its once-cherished diplomatic and political heft.
Needless to say, this is an era of near-constant seismic shifts, not least because of the ramifications of the war in Ukraine, runaway climate change and intensifying competition in a multipolar world. Therefore, a penchant for looking to the past to discern navigable paths through today's challenging geopolitical contexts is an exercise in futility and recklessness.
After all, squandering oil and gas wealth to buy favors and votes in international forums might have "worked" in a different time and setting, but such a practice is now an archaic remnant of a Cold War past, especially when most developing countries are more receptive to win-win partnerships and not meager charity that comes with strings attached, or perfunctory overtures that are ultimately meaningless.
The stakes could not be higher but Algiers is no stranger to this type of cautious maneuvering if one looks back a few decades. Historically, as a pillar of the nonaligned movement and bastion of mid-century anticolonialism, Algeria has never been equivocally pro-West nor exclusively pro-East, despite a preference for a kind of subjective neutrality that curiously brought it closer to the then-crumbling communist bloc.
The outbreak of a bloody civil war naturally resulted in Algeria turning inward during the 1990s, but even then the country preferred to maintain an assiduous balancing act and not fall into any single orbit or alignment despite the seemingly inescapable allure of the West in a post-Soviet unipolar global order.
Algiers' new-found prominence on the world stage might have caught its leaders by surprise.

Hafed Al-Ghwell
As a result, the two decades following the end of the civil war presented fresh opportunities for Algeria to capitalize on its ties to the West, Russia, China and the developing world, in addition to its proximity to Europe, its centrality in North Africa, its vast energy resources and its significant military prowess.
The last of these, for instance, proved formidable during counterterrorism and counterinsurgency operations against Al-Qaeda in the Islamic Maghreb and, later, Daesh — efforts that mostly benefited the West. In return, Algeria benefited from lucrative trade opportunities, more than $4 billion in financial aid and development assistance, and military training, to give just a few examples.
Meanwhile, in addition to participating in joint military exercises and forgiving billions in Algerian debt, Russia remains the third-largest supplier of military hardware to Algeria after India and China. Beijing remains Algeria's oldest and closest "friend," with diplomatic engagements dating back to 1958 and commercial relations that have underwritten close to $100 billion in investments, construction projects and development activities in the past two decades alone.
Successfully tapping into all of these elements, which are just a few examples of Algeria's unparalleled geostrategic value, calls for a clever kind of diplomacy — of which Algiers is proving incapable — to accelerate its de-isolation and maximize the benefits of reengaging with the world on its own terms.
The advent of bilateral US transactionalism during the Trump administration, culminating in a unilateral decision by Washington over the Western Sahara question, carried significant national security and foreign policy ramifications for Algeria at the worst possible time. Not only did the decision diminish the strategic ability of Algiers to check Moroccan hegemony in North Africa — the Polisario Front — it also soured relations between Algeria and the US, which the current White House administration has yet to mend despite the torrent of diplomacy and a mad scramble for alternative energy sources as a result of the war in Ukraine.
Additionally, the domestic Hirak protest movement in 2019 left little room for Algiers to prioritize foreign policy objectives, despite a pressing need, and precious few resources to counter what became a colossal diplomatic failure.
Fortunately for President Tebboune, the flood of international interest that comes with Europe's intensifying gas diplomacy is a perfect opportunity to field-test Algeria's new diplomacy and, possibly, restructure its approach to old conundrums.
The windfall from expanded gas production, renegotiated prices and new exports has already had an effect on the domestic scene by boosting social safety net programs and preventing politically costly tax increases, while also restoring Algeria's depleted reserves.
In other words, even as severe wildfires raged, killing dozens and spawning new crises, domestic priorities were no longer monopolizing institutional capacities and resources, leaving ample room for Algeria to capitalize on its renewed visibility on the international stage and recapture some of its lost hegemony.
Yet, instead of recording a quick succession of diplomatic coups, Algiers has only managed to stumble from one self-inflicted crisis to another: Lashing out at neighboring Morocco, nearly to the point of violent conflict; escalating a feud with Spain; and falling out with France over unresolved tensions.
Even across the Arab world and on the African continent, the fixation in Algiers on pressuring other countries to grant Polisario proxies external recognition and, in turn, international legitimacy has only elicited annoyance and exasperation, as witnessed during the 2022 Tokyo International Conference on African Development in Tunis.
Algeria's new-found prominence on the world stage might have caught its leaders by surprise, hence their recent struggles to reengage and reorient prevailing dynamics to better serve the country's interests, despite the leverage afforded by its natural gas supplies.
In this changed and still-changing world, however, Algiers must resist its obsession with obsolete rhetoric, counterintuitive maneuvering and counterproductive saber-rattling that will only leave it inaudible and unable to reshape events or safeguard its priorities beyond its borders.
•  Hafed Al-Ghwell