Baghdad summons the ambassadors of Washington, London and Iran After the American strikes in Iraq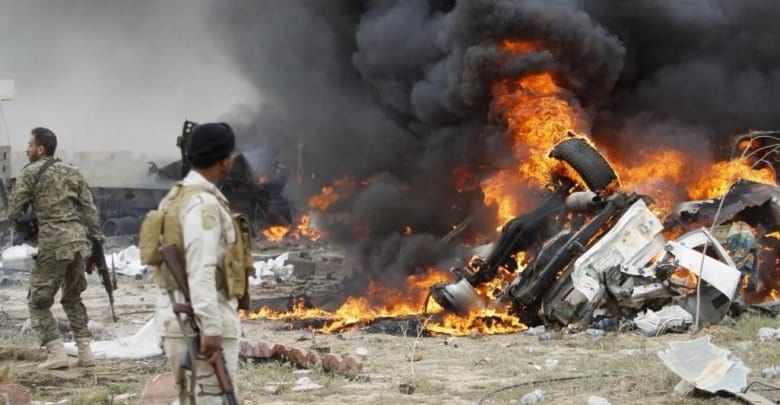 Baghdad today summoned the ambassadors of the United States and Britain after the American forces launched air strikes targeting locations of the Iraqi Hezbollah Brigades, killing six people and wounding 12 others.
Iran also warned President Donald Trump of his "dangerous" actions, calling on the US administration to reconsider the presence and behavior of its forces in the region.
"The United States cannot point fingers at others … about the consequences of its illegal presence in Iraq, and the state's response to the assassination and killing of Iraqi leaders and fighters," said Iranian Foreign Ministry spokesman Abbas Mousavi.
"Instead of taking dangerous actions and making baseless accusations, Trump should reconsider the presence and behavior of his forces in the region," he added.
The statement came hours after the Pentagon announced that the United States had launched strikes targeting Hezbollah brigades in Iraq.
The United States said the strikes targeted five weapons storage sites across Iraq.
She added that the strikes came in response to the killing of two Americans and a British in a missile attack on Taji Air Force Base (north of Baghdad).
The Iraqi army today condemned these strikes, saying that they had killed six people and wounded 12, describing them as a "flagrant assault" and "a violation of sovereignty."
An Iraqi military statement said that the three dead were soldiers, two policemen and a civilian, explaining that the attack did not result in the fall of gunmen.
For his part, British Foreign Secretary Dominic Rap said that the response led by the United States was "swift, decisive and proportionate", noting that everyone who seeks to harm the coalition forces should expect a strong response.
And the attack that took place on Wednesday is the 22nd attack on American facilities in Iraq, including the US embassy, ​​since late October.
While no party has immediately claimed responsibility for the attack, Washington usually accuses what it says are pro-Iranian PMF factions – which include groups including the Iraqi Hezbollah Brigades – of being responsible for similar violence.