Biden Visit to "Israel" Raises Fears of Intense Escalation in Region
x US President Joe Biden's showcasing visit comes amid protests across the Middle Eastern region, from Lebanon to Iraq and Jordan, against the massacre.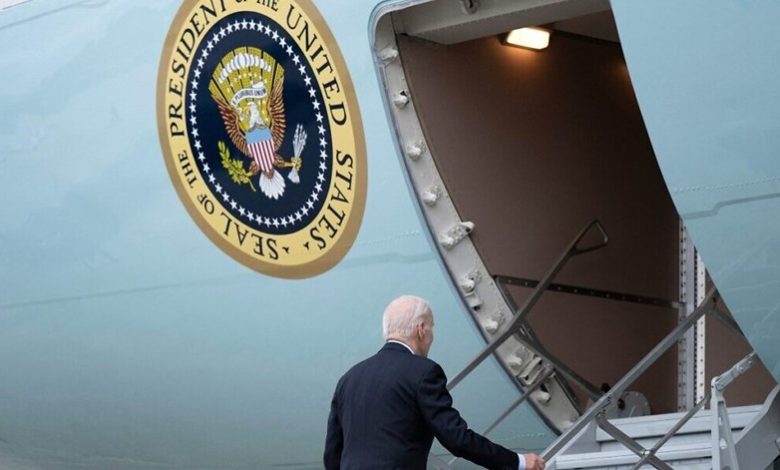 US President Joe Biden's arrival in "Israel" on Wednesday is intended as a show of support to "Israel" and an attempt at a warning to Iran and Hezbollah, hours after the massacre of the Baptist Hospital in Gaza that left over 800 killed, the majority of whom are children.
His showcasing visit also comes amid protests across the Middle Eastern region, from Lebanon to Iraq and Jordan, against the massacre.
In a statement from Air Force One on his way there, he said: "I am outraged and deeply saddened by the explosion at the al-Ahli Arab hospital in Gaza and the terrible loss of life that resulted".
"Immediately upon hearing this news, I spoke with King Abdullah II of Jordan and Prime Minister Netanyahu of Israel and have directed my national security team to continue gathering information about what exactly happened."
Around 2,000 US troops have been ordered by the Pentagon to be ready for deployment in support of "Israel" but likely not for war.
Biden has already canceled his meeting in Jordan with King Abdullah II, Egyptian President Abdel Fattah el-Sisi, and Palestinian Authority President Mahmoud Abbas.
Declaring war?
Representatives Rashida Tlaib (D-Mich.) and Ilhan Omar (D-Minn.) have accused "Israel" of the massacre and called on Biden to enforce a ceasefire.
"Your war and destruction only approach has opened my eyes and many Palestinian Americans and Muslims [sic] Americans like me. We will remember where you stood," Tlaib tweeted.
Fears are also being raised of regional escalation as Hezbollah called for a "day of unprecedented anger" on Wednesday.
Biden has been feening for an Israeli ground invasion in Gaza, which was postponed under the excuse of weather conditions.
According to The Jerusalem Post (JP), citing sources this week, one factor behind the delay of the Israeli ground invasion of Gaza has been the concern that Hezbollah is waiting for that moment to open a full battle front with the IOF in the north.
JP stated that the delay was to double-check matters regarding Hezbollah's intentions, as well as the plan to replenish and reinforce the IOF in the north if push comes to shove.
Furthermore, a recent report by Bloomberg shows that the Biden administration is worried that "Israel" is shortsightedly fixated on invading Gaza and has no robust plan that would grant it a sustainable solution.
Possible worst-case scenarios
While the US has pledged unconditional support for "Israel" in its aggression against Gaza, it is concerned about the possible repercussions of the ground invasion, the report explains, listing a set of concerns: 
– The conflict could snowball into a regional war that would involve other parties, such as the Lebanese Islamic Resistance – Hezbollah;
– The humanitarian toll on Palestinian civilians could subject "Israel" and the US to increased international pressure;
– Exacerbation of the struggle and increased Palestinian casualties could place normalization deals with Arab governments at risk;
– The fate of the captives, which "Israel" seems to have decided to sacrifice as "collateral damage" in its war against Gaza;
– "Israel" has no prospective plan for Gaza beyond their determination to "destroy" Hamas.