BREAKING: Calls at Tunisia Parliament to Withdraw Confidence from Ghannouchi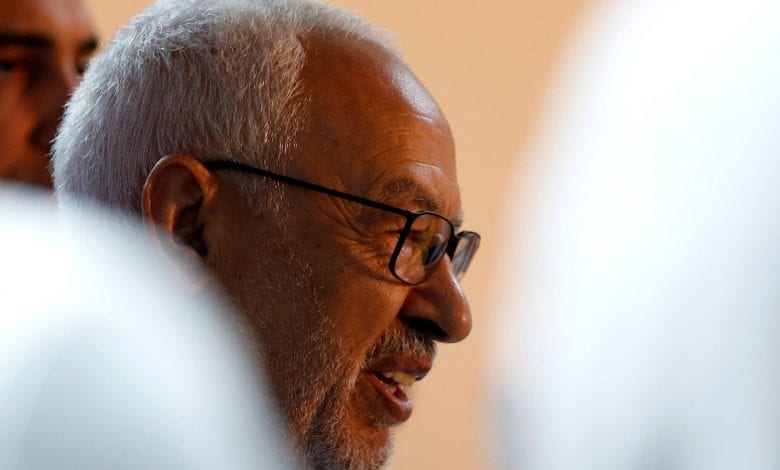 This morning, the Tunisian parliament held a session over suspicious role played by Parliament Speaker Rashid Ghannouchi in Libya, and on Tunisian diplomacy, where representatives called for withdrawing confidence from him.
"Sky News Arabia" quoted local sources saying that there are accusations of the Al-Nahda movement to escape from the Ghannouchi session, and that there have been disputes within the session, before Ghannouchi decided to end it and invite the political parties for meetings.
Ghannouchi, the head of the Nahda Brotherhood movement, will appear before the parliamentary blocs to answer their questions related to the core of his relationship with the international organization of the Brotherhood and its suspicious movements with armed groups in Libya supported by Turkey and Qatar.
The movement's leader, Ghannouchi, after frequent contacts with Turkish President Recep Tayyip Erdogan and his congratulations to the Fayez Al-Sarraj government and its militias, for controlling parts of Libyan soil, has become a provocation for all the major political forces in the country.
Prior to the session, representative Abeer Moussa confirmed that she would reveal the intention of the head of the Ennahda movement, Rashid Ghannouchi, to implement the Brotherhood's agenda, stressing that many deputies pledged to sign a petition to withdraw confidence from him.
Earlier, a crowd of opponents gathered in front of the parliament building yesterday to demand his removal from the presidency of the House of Representatives.
The head of the Free Constitutional Bloc also pledged to disclose "Ghannouchi intentionally exceeding his powers in foreign policy, enabling foreign programs to penetrate into Tunisia and implicating them in destabilizing the region" as she put it.
The Tunisian General Labor Union, the largest union force in Tunisia, which has a political weight that exceeds many parties, issued a strongly worded statement, condemning what a number of countries are doing to transfer thousands of terrorists from the Syrian front to Libya, which constitutes a direct threat to Tunisia's security and stability.