Brotherhood of Tunisia and the assassination of Belaid … Terror hides the evidence of conviction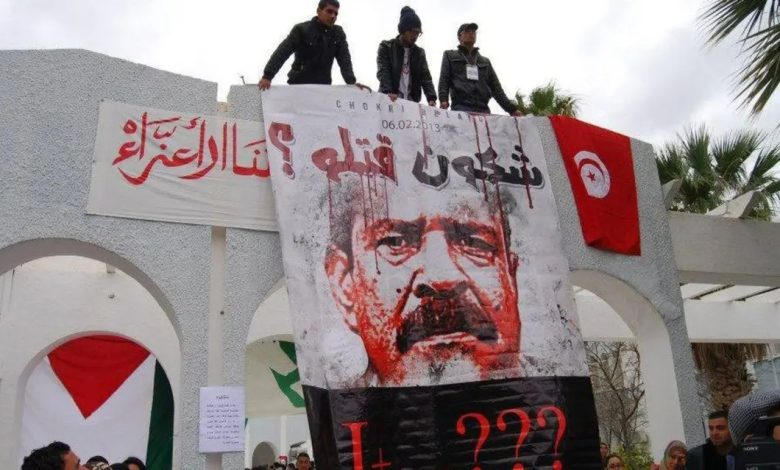 The cells of the Brotherhood of Tunisia are still poisoning the judiciary and state agencies in an attempt to bury the evidence of their conviction for the assassination of the leftist leader Chokri Belaid years ago.
New developments in a case All available data indicate that the terrorist organization has become haunted by the horror of its conviction after the cover fell on it by excluding it from the ruling and launching a campaign against its followers scattered in various institutions and sovereign ministries.
However, it seems that the Brotherhood's arms are still able to infiltrate the most secure and secret places in the courts, to tamper with and steal evidence to prevent their role or involvement in the political assassinations that rocked Tunisia in 2013.
Investigation
On Friday, the judicial session to consider the case of the assassination of Belaid witnessed the announcement by the representative of the Public Prosecution of its decision to open an investigation to reveal the circumstances of the disappearance of about 27 CDs belonging to the accused (murderer) Kamal Al-Quddhi, from the court's custody room.
A member of Chokri Belaid's defense team, Reda al-Radawi, also called for an investigation with the members of the Anti-Terrorism Squad who raided the house of terrorist Reda Sabtawi in the Wadi al-Lail area in 2013.
Al-Radawi had previously said that the former and ousted public prosecutor, Al-Bashir Al-Akrimi, misled the facts in the service of the Brotherhood's Ennahda movement, and that the latter was the protector of its crimes.
He explained that there was no clear will to reveal the truth of the assassination and to know who planned, masterminded and carried out the operation and to hold those involved accountable.
According to Al-Radawi, the incident of storming the house of terrorist Reda Al-Sibtawi and killing his wife by members of the anti-terror squad was fabricated, during which the facts were deceived.
He pointed out that the goal was to drag the Salafists, specifically the "Ansar al-Sharia" organization, to assassinate Chokri Belaid.
He pointed out that the security forces said that they killed the terrorist's wife because she was carrying a Kalashnikov and shot them. When the house was raided and examined by the investigating judge, it was found that there was only a broken Kalashnikov.