Egyptian policeman, seven militants killed, 3 wounded in Cairo clashes coinciding with Coptic Easter
Egyptian security forces raid 'terror cell' in capital, according to country's Interior Ministry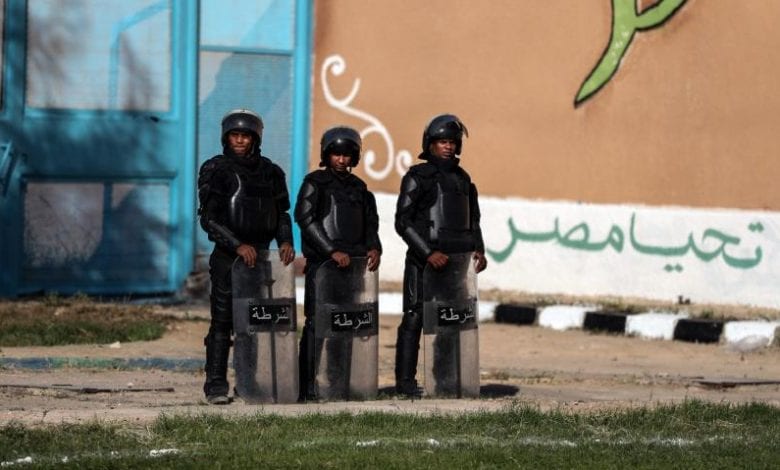 Egyptian security forces on Wednesday killed Eight suspected militants in a shootout "terror cell" in Cairo, the Interior Ministry said.
The ministry said in a statement that an armed terrorist cell in east Cairo was targeted in line with intelligence provided by the country's security agency. 
Clashes erupted as the raid on the apartment was being carried out, and an officer and seven terrorists were killed while three others were wounded. 
The cell was reportedly plotting to carry out terrorist acts simultaneously during a Christian festival. 
A police officer was also killed during the hours-long firefight which erupted when security forces raided a suspected militant hideout at a residential building in Cairo's Amiriyah district, the ministry said. Three police agents, including an officer, were wounded.
The dead police officer was identified as Lt. Col. Mohammed Fawzi al-Houfi.
The ministry, which oversees police, said the forces seized weapons and ammunition in the raid.
Egypt Defence Review

@EgyptDefReview

Reports of a firefight between Interior Ministry counter terror forces and alleged militants in a Cairo neighbourhood. https://twitter.com/Extranewstv/status/1250129655283277831 …

تبادل إطلاق النيران بين قوات مكافحة الإرهاب بالداخلية ومجموعة إرهابية بالأميرية في القاهرة#eXtranews
">
It said the suspects were planning attacks on the country's Coptic Christians during the Holy Week and Easter Sunday. Egypt's Coptic Orthodox Christians, one the world's oldest Christian communities, celebrate Easter on April 19.
Coptic Christians, who form roughly 10 per cent of Egypt's population, have previously been targeted by Islamist extremists. Three years ago, suicide bombers struck hours apart at two Coptic churches in northern Egypt, killing 44 people and turning Palm Sunday services into scenes of horror.
Private television channel CBC Extra News aired footage of the gunfire in Amiriyah as residents of the area were warned to stay inside their homes away from windows and doors. Electricity was also cut off in the district.
The shootout lasted several hours until after the 8:00 pm start of the nighttime curfew imposed to stem the spread of the coronavirus, a security source told our reporters, adding that the cell was "neutralised".
Security forces have been battling a long-running insurgency mainly in the Sinai Peninsula in northeastern Egypt, spearheaded by a local affiliate of the Islamic State group.
Authorities launched a nationwide operation against militants in February 2018.
Since then, over 845 suspected militants have been killed in North Sinai province along with more than 60 security personnel, according to official figures.