Cristiano Ronaldo reiterates support for rising Saudi football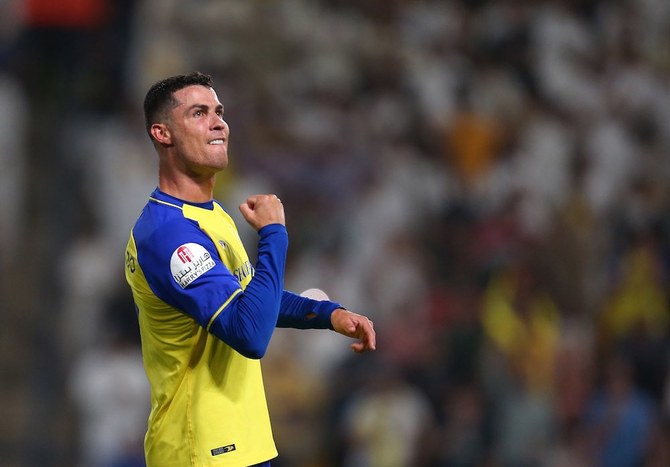 Cristiano Ronaldo made headlines on and off the pitch on Tuesday. Firstly, he scored a spectacular goal that proved to be the decisive strike in a dramatic come-from-behind 3-2 win over Al-Shabab that kept his team three points behind Al-Ittihad, and their title dreams alive.
It was the kind of goal that fans in Spain, Italy, England and Portugal have cheered for years and one that will rank alongside the many hundreds the 38-year-old has scored in an illustrious career, and surely the best of the 14 netted so far in the yellow of Al-Nassr.
Secondly, not much more than 30 minutes later, he gave a short interview that followed his goal, to be talked about around the world.
"We are much better and the Saudi league is getting better and the next year will be even better," he told Saudi Arabian sports channel SSC. "Step-by-step I think this league will be among the top five leagues in the world, but they need time, players and infrastructure. But I believe that this country has amazing potential, they have amazing people and the league will be great in my opinion."
It was not the first time that Ronaldo has made such comments after arriving in the country in January. During his first international break with Portugal in March, he said something similar for a foreign audience. The reaction was one of disbelief in Europe and the comments were dismissed. This time he was talking to a domestic audience and the message is the same. He means what he is saying.
He did stress potential and point out the need for three things — players, infrastructure and time.
The presence of the five-time Ballon d'Or winner will help with the first. It is very likely that there will be an influx of top-class foreign talents coming into the Roshn Saudi League this summer. This is partly because Ronaldo, one of the best in the history of the game, is already there. When Lionel Messi was linked with a move to Al-Hilal recently, the possibility of the Argentine in Saudi Arabia was taken seriously because Ronaldo is already there. Whether the seven-time Ballon D'Or winner comes or not, the league is now seen as a place where the very best can go and play.
More players will come and with Ronaldo present, there has to be a certain commitment and mentality from the foreign imports. The likes of Carlos Tevez not only saw a move to China as a holiday, but openly said that was the case. Ronaldo sets such high standards for himself and others that he can't help but make a difference and other clubs will, or should, demand similar levels of dedication from their new signings. The star has shown that, regardless of talent, there can be no excuse for anything less than 100 percent at all times.
Ronaldo can be seen talking to team-mates, cajoling and encouraging and sometimes expressing his frustration when the right pass or move is not made. Yet his greatest ire is directed toward himself. When he misses a chance, heads over or is dispossessed, his annoyance is there for all to see.
Here is a player who is as good as he can possibly be. His Al-Nassr team-mates must have found training a different experience in the past few months. There have been hundreds, thousands, of foreign players, in Saudi Arabia over the years but few, if any, have shown such dedication and professionalism. Such is his commitment, you can be sure that he means what he says.
So more of the same from other top-class foreigners can only improve standards in training, preparation and games. And then, as Ronaldo mentioned, comes the infrastructure. This is an ongoing project but there are an increasing number of top-class stadiums and training facilities are also improving. There is no point signing world-famous players and developing domestic talent and then providing substandard facilities. 
If the players and infrastructure improve, the third element is time. In football, this is something that has often been in short supply around the world and the lifespan of coaches at Saudi Arabian is not a long one. Off the field however, there is longer-term planning, strategy and enough patience for change to come.
In some ways, it does not matter if the Roshn Saudi League becomes one of the top five in the world.
The journey and ambition is more important than the destination and the crucial point is that the league and all in Saudi Arabian football aim to never be satisfied, to seek to constantly improve and keep developing. So far, Ronaldo is playing his part but there is more to come.