Defense secretary Mark Esper opposes deploying active-duty troops after Trump threat
"I don't support invoking the Insurrection Act," Mark Esper said in his first public comments since the protests erupted.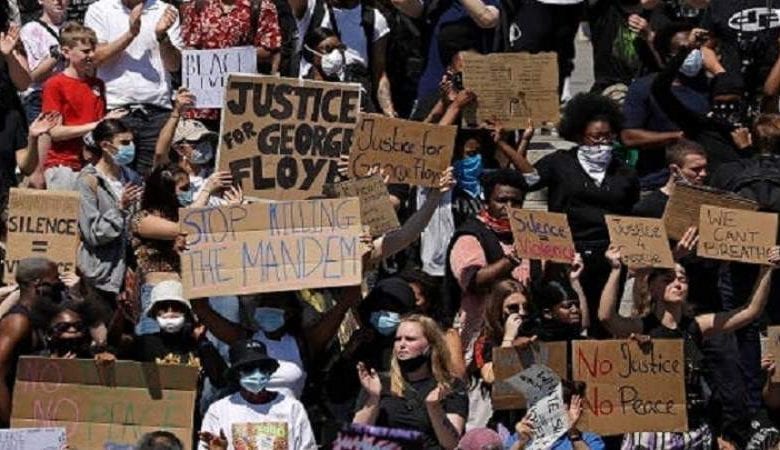 Defense Secretary Mark Esper declared on Wednesday his opposition to sending active-duty troops into U.S. cities to deal with violent protesters, two days after President Donald Trump threatened to do so if governors don't call up National Guard troops.
White House officials are unhappy with Esper's comments to reporters.
White House officials are unhappy with Esper's comments to reporters, an aide and two people close to the discussions tell our reporters. 
Esper did not specifically contradict the president, who threatened on Monday to deploy the active-duty military in the future if state and local officials did not quell the protests, but his message and forceful tone rubbed some in the White House the wrong way, the people said.
"The option to use active-duty forces in a law enforcement role should only be used as a matter of last resort and only in the most urgent and dire situations. We are not in one of those situations right now," Esper said Wednesday in his first public comments since the protests erupted.
"I do not support invoking the Insurrection Act," Esper said, referring to the president's authority to deploy active-duty troops to respond to protests.
The act was last invoked in 1992 to tamp down violent protests in Los Angeles after the Rodney King trial.
While people close to the White House said firing Esper is not currently part of the conversation, one noted that the defense secretary has previously gone off message.
White House spokesperson Kayleigh McEnany declined to say whether Trump was still confident in Esper.
"As of right now, Secretary Esper is still Secretary Esper. Should the president lose faith we will all learn about that in the future," she said.
Meanwhile, active-duty troops brought to the national capital region to respond to unrest if needed are beginning to return to their home base after two days of more peaceful demonstrations in D.C., according to The Associated Press. Approximately 200 soldiers with the 82nd Airborne's immediate response force will be the first to leave on Wednesday.
During his remarks, Esper also condemned the death of George Floyd while in police custody, calling it "a horrible crime" and saying the officers on scene must be "held accountable for his murder."
"It is a tragedy that we have seen repeated too many times," he said.
Esper acknowledged telling the armed service chiefs that he wanted to send the department's initial message about the tragedy. But several officials appeared to break with that order: The top uniformed leaders of the Air Force and Space Force have condemned Floyd's death in the past few days. Air Force Chief Master Sergeant Kaleth O. Wright described his own experience as a black man and called for change in a social media post.
Esper was asked why it took him a week to address the events. He said he initially wanted to remain apolitical, but in the past three days as events unfolded "it became very clear that this is becoming a very combustible national issue."
"We've been consumed with a lot of things between now and then, but I do think it's important to speak up," Esper said. "My hope is that instead of the violence in the streets we will see peaceful demonstrations that honor George Floyd, that press for accountability for his murder, that move us to reflect about racism in America and that serve as a call for action for us to come together and to address this problem once and for all."
Esper has been harshly criticized for appearing in a photo op Monday night next to Trump and other members of the administration in front of St. John's Episcopal Church across the street from the White House, moments after authorities cleared the area of protesters.
During his comments, Esper provided a detailed account of the events of Monday night, saying he was "not aware" that there would be a photo op after the president's remarks in the Rose Garden. He did know that he and other officials were going to join Trump in reviewing the damage in Lafayette Park and at the church.
Esper seemed to acknowledge that appearing in the photograph was misguided, saying that in his efforts to remain apolitical "sometimes I am successful and sometimes I'm not as successful." However, he stressed that "my aim is to keep the department out of politics."
Esper also addressed his controversial comments to governors over the weekend that states "dominate" the "battle space" so that civil unrest "dissipates and we can get back to the right normal." He said the wording is "part of our military lexicon that I grew up with," and that the "battle space" in this context referred to the operation, not to the American people.
However, he acknowledged that in retrospect he would use different language "so as not to distract from the more important matters at hand or allow some to suggest that we are militarizing the issue."
He also said reports that National Guardsmen fired rubber bullets and tear gas into the crowds were inaccurate. The Guardsmen were instructed to wear helmets and other gear for self-protection, "not to serve as some form of intimidation."