Egyptian-Libyan talks to activate joint committee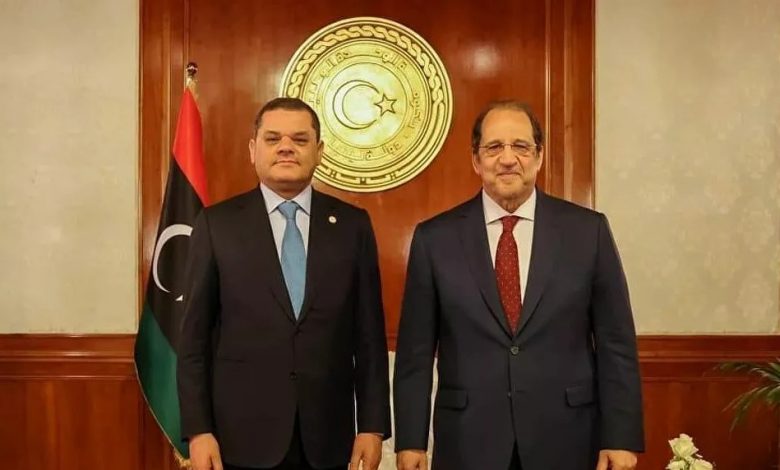 On Thursday, Libya and Egypt discussed activating the joint higher committee to enhance cooperation between the two countries in various fields.
And according to earlier Thursday, Kamel arrived in Tripoli on an unannounced or fixed-term visit, according to the statements of a source in the Libyan government.
This came during a meeting between Libyan Prime Minister Abdel Hamid Dabaiba and Egyptian General Intelligence Chief Abbas Kamel in the capital, Tripoli, according to a statement by the Government Information Office in Libya.
The statement stated that "the meeting dealt with coordination for the visit of the Libyan Prime Minister to Egypt (without specifying a date) to activate the Libyan-Egyptian Joint Higher Committee, and to complete what was agreed upon in all fields."
In turn, the Egyptian intelligence chief, Dabaiba, was briefed on the results of the Egyptian delegation's visit to Tripoli last May and the coordination mechanism regarding the activation of all agreements concluded between the two countries.
According to the same statement, the meeting touched on "the positive role of Egypt in promoting reconciliation between the Libyan parties in a way that enhances security and stability in the region."
For months, Libya has been witnessing a political breakthrough. On March 16, it received an elected transitional authority that includes a unity government and a presidential council.
Last April, Egyptian Prime Minister Mostafa Madbouly made an official visit to Tripoli, accompanied by 11 ministers, to enhance cooperation between the two neighboring countries in various fields.
Its mission is to lead the country to the elections scheduled for December 24.
For several years, the country suffered from armed conflict. With the support of Arab and Western countries, mercenaries, and foreign fighters, Khalifa Haftar's militia fought the former internationally recognized Government of National Accord.