Libyan Brotherhood launch an attack on the foreign minister Najla Al-Manqoush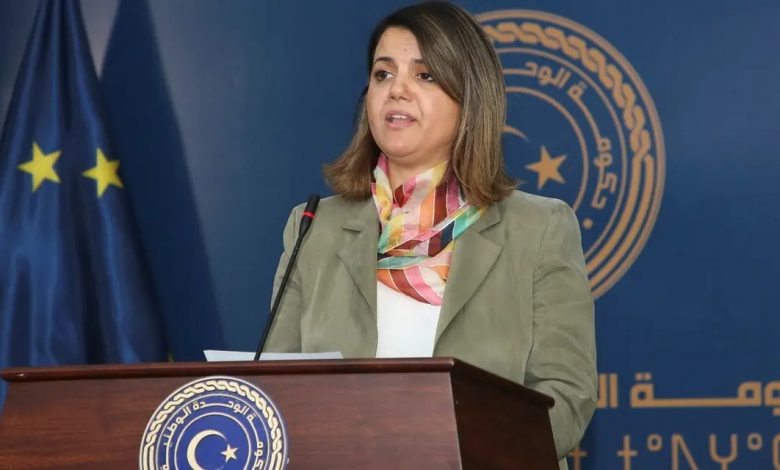 The political arm of the Brotherhood organization in Libya, "Justice and Construction Party", launched a sharp attack on the Minister of Foreign Affairs of the National Unity Government, Najla Al-Manqoush, after her call to cancel the agreement signed with Turkey And the withdrawal of its forces from Libya.
Al-Manqoush had confirmed, during a session with the Foreign Affairs Committee of the Italian Parliament, at the Monte Cittorio Palace in Rome, that "the national unity government led by Prime Minister Abdul Hamid al-Dabaiba has started a dialogue with Turkey, and has noticed Ankara's readiness to start discussions and negotiations."
Dabaiba meets with Turkish President Recep Tayyip Erdogan in Ankara this April
Al-Manqoush stressed that "Libya is firm at the same time in its intentions, and asks all countries to cooperate in order to remove foreign forces from Libyan lands," stressing that "the matter is a priority for Libya, because Our security depends on the withdrawal of foreign forcesAccording to what was quoted by the Italian "Aki" agency.
The Brotherhood's "Justice and Construction" party confirmed that Foreign Minister Najla Al-Manqoush's call for the withdrawal of Turkish forces from Libya is "surprising", claiming that "these forces present on Turkish territory came in support of stability and based on an official joint agreement with the Libyan state." They are not mercenaries. "
After that, the Brotherhood's leaders in Libya and their forces called "volcano of anger" were mobilized to respond to this call and defend the Turkish presence.
The party continued its desperate defense of the continuation of the Turkish presence on Turkish territory, considering that "it is not within the competence of the national unity government that the Road Map came to cancel any previous international agreements, since deciding on them is one of the powers of the authority that will emanate from the upcoming elections."
Justice and Construction Party
In turn, the so-called "volcano of anger" forces attacked Foreign Minister Najla Al-Manqoush, and emphasized the "legitimacy" of the Turkish presence in Libya and the "legitimacy" of the agreement that Turkey signed with the previous government of reconciliation, according to which it opened the door for Turkish forces to intervene in Libya and drown it with foreign mercenaries, weapons and equipment. Al-Askari, in addition to controlling its military bases and concluding agreements to train armed militias in them.
The Libyan Brotherhood's position contradicts the ceasefire agreement signed between the two parties to the conflict in the Swiss city of Geneva in October of last year, which stipulates "the necessity of Leave all foreign forces and mercenaries From Libyan lands. "This position also contradicts international efforts aimed at solving the dilemma of foreign mercenaries in Libya.